'Parasites' feast on ruling AL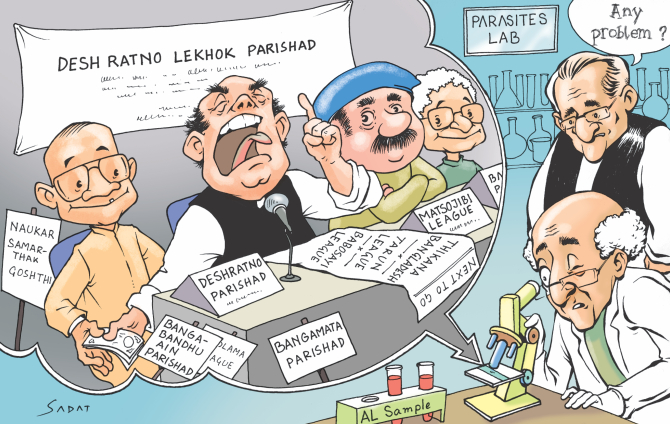 They are parasites, as Obaidul Quader calls them. And true to their names, they are growing on others without any problem.Over the past five years, scores of these "parasite" organisations have sprouted like mushrooms in the capital, with Bangabandhu Sheikh Mujibur Rahman, his family members and the Liberation War tagged with their names.Behind these name-only organisations are some little-known ruling party men who have set an example of how to best abuse the Father of the Nation and the country's Liberation War to make a mint.Under the law, floating any organisation using the name Liberation War requires permission from the Jatiya Muktijoddha Council. But most of these organisations have not taken permission.
IT'S ALL SO EASY
Their business is simple: They organise programmes or seminars marking various special days. Some top AL leaders who are sidelined in the party and want to draw the attention of the party high-ups provide the money. In return, they are made chief or special guests at the programmes, said sources with first-hand knowledge.A certain group of people make the audience in exchange for money. The media coverage is also stage-managed. Some reporters and photographers, who are not involved in the mainstream media, arrange the coverage.
Some pro-AL businessmen also stand ready to attend the programmes for publicity and for drawing the attention of Prime Minister and AL President Sheikh Hasina, according to the sources.This is how over 100 such organisations have been holding programmes at different places in and outside the capital since the AL took office in 2009.More than 20 organisations have the word "Muktijoddha" (freedom fighter) tagged with them. They include Muktijoddha Projonmo League, Muktijoddha Tarun League, Awami Muktijoddha League, Amra Muktijoddhar Sontan, Muktijoddha League and Muktijoddha Janata League.The organisations that use the names of Bangabandhu and his family members include Bangabandhu Shishu Kishore Mela, Bangamata Parishad, Bangamata Sheikh Fazilatunnessa Mujib Parishad and Jananetri Parishad.
'PARASITE OR DIRT'
These organisations do not have constitutions, full-fledged committees or permanent offices. But their "owners" make the best use of their relations with ministers and other powerful leaders who attend the programmes regularly.Sources said the masterminds behind these organisations use their influence for transfer of government officials and securing tenders from the city corporation, Wasa, Water Development Board, Local Government Engineering Department, Department of Food and other public offices.Contacted, Road Transport and Bridges Minister Obaidul Quader said when a party comes to power such organisations grow like "parasites or dirt"."Some people float organisations for getting benefits while some extort money using the organisations," he told The Daily Star, adding that some people involved with the AL politics but having no posts form such organisations to be in the limelight.Interestingly, Obaidul is among the AL big shots who attended such programmes. Just to name a few, he spoke at a programme organised by Bangabandhu Academy at Dhaka Reporters Unity on June 17, 2011, at a Bangalee Jatiyatabadi Parishad discussion at the same venue on October 6 the same year and at a Bangamata Sheikh Fazilatunnessa Mujib Parishad event in Laxmipur on May 3 this year.Asked why he attended programmes organised by such "parasites," Obaidul told The Daily Star yesterday that he only attended the events organised by AL leaders and activists who are devoted yet ignored in the party."I was very selective in this regard. I never went to programmes of those organisations that are involved in extortion or those that always seek benefit." Liberation War Affairs Minister AKM Mozammel Haque said, "Most of these organisations are a fake and were launched with ill motives."Asked what they were doing to check it, he said they would take action if anyone lodged official complaints in this regard.
Another 20 or so organisations use the name of AL and its election symbol. They include Naukar Samarthak Goshthi, Naukar Natun Projonmo, Awami Projonmo League, Awami Samabay League and Matshajibi League.Humayun Kabir Mizi, general secretary of Bangabandhu Academy and president of Naukar Samarthak Goshthi, said some AL leaders and pro-AL businessmen donated money to arrange programmes.Soon after the formation of the cabinet in 2009, some top AL leaders who did not get any cabinet post started joining programmes arranged by these organisations.Among them are Suranjit Sengupta, Mohammad Nasim, Obaidul Quader, Muhiuddin Khan Alamgir and Mofazzal Hossain Chowdhury Maya. In those programmes, they used to blast government activities, drawing extensive media coverage.Suranjit, Obaidul and Muhiuddin were later inducted into that cabinet. Nasim and Maya are members of the current cabinet.Suranjit Sengupta, who was railway minister in the previous cabinet, started to join the programmes of those organisations again after he lost the job in 2012. The same is true for Hasan Mahmud, former forest minister.After getting the charge of communications ministry in 2011, Obaidul Quader stopped attending these programmes and started criticising the activities of these organisations.
AUDIENCE AND MEDIA COVERAGE
Abdul Malek, who sells cigarette near the Press Club, is one of those who supply audience for all programmes and all venues."I will supply people, but you have to pay me Tk 80 for each person. And you have to confirm me a day before the programme," he said when this correspondent approached him in guise of an organiser.Several other suppliers said the audience would not stay at a programme for more than three hours as they would attend more than one programme on a single day.Media coverage is arranged by certain reporters and photographers, allegedly in exchange for money. They send through emails the news and photos or videos of the programmes to the mainstream media.The mainstream media often cannot drop the news because influential ministers and AL leaders attend these programmes and give fiery speeches.
THE CONFLICT WITHIN
On June 21 this year, Bangladesh Deshratno Parishad organised a discussion, titled "Evil diplomatic efforts by BNP-Jamaat," at Shilpakala Academy.In the opening, Razia Mostofa, who claimed to be president of Dhanmondi Mahila Awami League, took the microphone and claimed she was the founder of Deshratno Parishad. She also showed some documents in support of her claim.Then one Chitta Ranjan claimed himself to be its president and organiser of the event.Sources said such conflicts within these organisations were very common.Interestingly, only a handful of people are behind all these organisations.Former Krishak League leader MA Karim and Dhaka City AL leader Abdul Haque Sabuj are behind about 40 and 30 organisations respectively, according to the sources.Contacted, Karim said he did not own any organisation. "But I attend programmes when the founders of the organisations invite me."Sabuj said they had an alliance of 22 organisations, but he himself floated just one organisation, Bangalee Jatiyatabad Parishad.Asked if his organisation is registered, he said, "Why do I need to register?"