Economists and rights groups flay Muhith's comment on bribe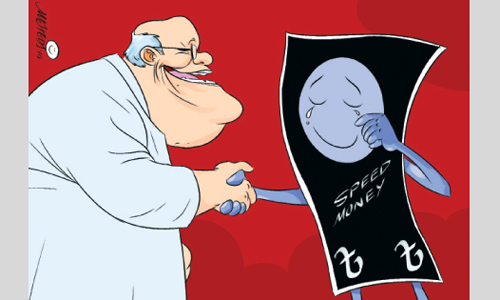 Economists and rights campaigners have censored finance minister AMA Muhith's 'stunning and irresponsible' remark that 'bribe was not illegal'. They noted that the finance ministers' remark was completely immoral and unacceptable as it will encourage the practice of bribery in bureaucracy and other sections of society. The statement should be expunged for the greater welfare of the nation, especially since an international organisation has already branded the country 'most corrupt' more than once in the past, they said. Muhith on Tuesday said he considered taking or receiving bribe as not being illegal.
'What brings speed should not be called illegal,' he said, while addressing a memorandum of understanding signing ceremony between Bangladesh Garment Manufacturers and Exporters Association and Bangladesh Bank. In other countries, bribe has been given legal protection through other names, he said, adding, it was called 'speed money.' Former caretaker government adviser Mirza Azizul Islam told New Age on Wednesday that it was also called 'grease money' in many countries. Whatever they are named, it is simply bribe, he said, adding that Muhith's comment was totally immoral.
Former Bangladesh Bank governor Salehuddin Ahmed said the nation did not deserve such comments from the country's finance minister. You would never find a finance minister in other countries making such a statement, he said. This was not the first time Muhith stunned everyone with his irresponsible comments. The finance minister had drawn flak from different quarters in the past for his remarks on share market and embezzlement of around Tk 4,000 crore by little known Hallmark Group from a branch of state-owned Sonali Bank in 2012. Muhith said the amount swindled by Hallmark Group was a 'small' amount. He also said the banking sector would not feel any negative impact from the single largest loan scam in the banking sector of the country.
Transparency International Bangladesh executive director Iftekharuzzaman observed the finance minister's comment on bribe was contrary to his party's stance and government policy to fight corruption and introduction of the national integrity strategy. He said Muhith should expunge his remark as he is the chief of the executive committee of the National Integrity Advisory Council. Such comments will hurt the millions who had to pay bribes to get services from government functionaries, he added. Besides the economists, Bangladesh Jamaat-e Islami and some ulemas also condemned Muhith statement. Jamaat in a statement said Muhith tried to legalise bribe since ministers and leaders of the ruling party were indulging in corruption heavily. In another statement the ulemas demanded removal of Muhith from the cabinet.