A peek inside Trump's chaotic trade war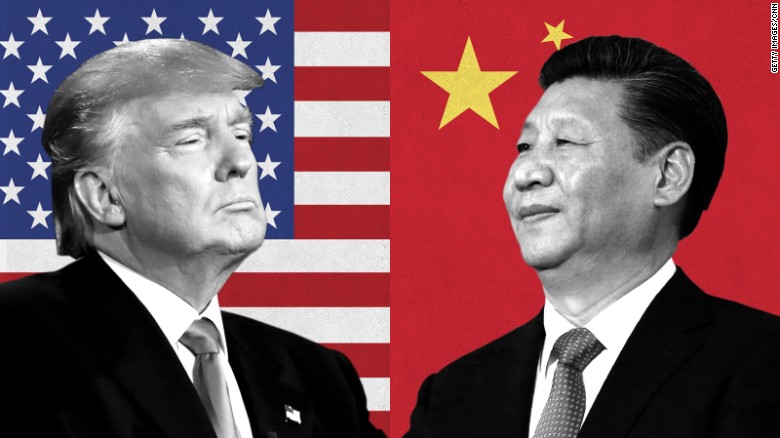 Just days before announcing the latest round of tariffs on Chinese imports, President Donald Trump caught sight of a distressing suggestion as he flipped through the morning papers.
The sentence that so disturbed him, smack in the middle of The Wall Street Journal's front page, noted "a steady rise in political pressure" on his administration to ease the trade battles that have come to define his foreign policy and riven his team of advisers.
Incensed, the President reached for Twitter to dismiss any notion that his administration was taking a conciliatory stance toward Beijing.
"We are under no pressure to make a deal with China, they are under pressure to make a deal with us," he tweeted. "Our markets are surging, theirs are collapsing. We will soon be taking in Billions in Tariffs & making products at home. If we meet, we meet?"
In a West Wing rife with well-documented chaos, no area better embodies Trump's duke-it-out whims than trade, particularly with China. The President has had long-standing, dogmatic conviction on trade policy and, according to multiple people close to the administration's internal deliberations, those views will not change.
Now, as the President arrives in New York for the annual United Nations General Assembly, the US-China trade war is looming larger than ever, threatening to unsettle the global economy if the dangerous game of tit-for-tat between these two economic behemoths persists.
An administration at odds with itself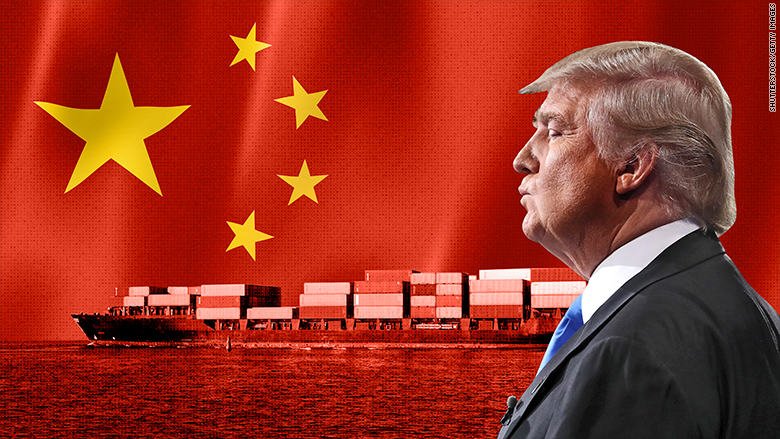 Trump's trade war with China is about to get a whole lot bigger
In the days leading up to last week's announcement of new tariffs on $200 billion worth of Chinese goods, Trump obliterated the chances for a diplomatic solution sought by his Treasury secretary. Instead, he upped the ante, and the prospect of negotiations to stave off another volley of tariffs between the two countries promptly fizzled.
"There is no scheduled US-China negotiation at the moment," a senior White House official said on Friday. "That doesn't mean it wouldn't happen."
At the same time, his moves emboldened the administration's hard-liners, who believe economic pain and an uncompromising stance on core US demands are the only way to force Beijing to alter its trade practices. White House officials also insist the current strength of the US economy gives the United States a prime opportunity to take a tough negotiating stance against China.
Driving Trump, according to aides, is a persistent aversion to appearing weak, even in the face of dire warnings and political fallout. But he has also allowed internal divisions to persist -- a management style he prefers -- offering up uncertain negotiating territory and giving Beijing an opening to exploit divisions among the President's top economic advisers.
The President has continued to face internal opposition to his more hawkish trade views from several of his top advisers, most notably Treasury Secretary Steve Mnuchin and senior economic adviser Larry Kudlow.
But while the two men have privately sought to dissuade Trump from pursuing the increasingly costly trade war with China, they have been far less effective at discouraging Trump from following his protectionist instincts than the President's advisers were in the first year of his presidency.
"The biggest challenge for the administration right now is that you have people like Kudlow and Mnuchin who are smart and have beliefs that cut in the other direction, but rather than strenuously trying to make those arguments, they are just trying to blunt the sharp edges," said a person with knowledge of the administration's internal deliberations on tariffs who compared these efforts to "rearranging the deck chairs on the Titanic."
Debate encouraged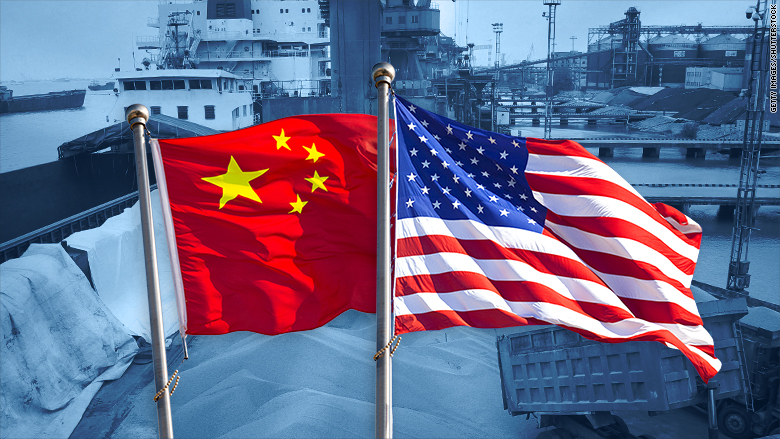 After 'major escalation' in US-China trade war, what happens next?
Several administration sources downplayed the internal strife. Instead, these officials insist that the President encourages debate and said the President's advisers are united in affirming the importance of addressing the Chinese issue.
The President's more hawkish trade advisers like US Trade Representative Robert Lighthizer and Director of Trade and Industrial Policy Peter Navarro now appear to have the President's ear.
The two camps of advisers all huddled in the Oval Office several hours after Trump dispatched his tweet. There, the President was adamant that anything less than the harsh package of tariffs he'd been threatening for months would be viewed as surrender, three people familiar with the episode said. And not only in Beijing, but in the US heartland, where he remains convinced his supporters will reward him for waging a trade war. His instincts appear correct for now; polls have shown his tariffs are widely popular among Republicans.
The President, keen to protect the farmers and industrial workers who still flock to his campaign rallies, insisted to his aides that any retaliatory measures taken by China punishing the agricultural sector be met with additional tariffs -- at $267 billion, the additional package would effectively amount to all Chinese products imported to the United States.
In the meeting, the sources said, Trump shrugged off concerns raised by some of his economic advisers that additional tariffs could negate the diplomatic efforts led for the last several months by Mnuchin, whom the President addresses as Steve.
"We're doing the tariffs," the President told his advisers, according to one person briefed on the conversation. "Steve can keep talking, but we're doing the tariffs."
Ahead of the tariffs announcement, Mnuchin had invited China's lead negotiator, Vice Premier Liu He, to Washington. But negotiations between the United States and China stalled after Trump ordered new tariffs on $200 billion worth of Chinese goods last week.
Trump is expected to meet with Chinese President Xi Jinping on the sidelines of the G20 summit, set for the end of November in Argentina.
During talks in Beijing earlier this year, Mnuchin favored one-on-one discussions with Liu, to the exclusion of hardliners like Lighthizer and Navarro. That approach led to dramatic tension among the US advisers, including during a public shouting match on the sidelines of those trade talks where Navarro erupted at Mnuchin.
Mnuchin and Trump's first National Economic Council Director Gary Cohn -- sometimes alongside then national security adviser H.R. McMaster and then-Secretary of State Rex Tillerson -- often presented a unified front in urging the President not to follow through on the litany of protectionist measures Trump has wanted to engage in since taking office.
And their efforts were bolstered by the President's since-disgraced staff secretary Rob Porter, who aligned himself with the President's globalist advisers and for months managed the trade policy process. Porter departed the White House after accusations of spousal abuse emerged. He has denied the accusations.
Using levers at hand
Trump tempers expectations for possible US-China trade deal
At the President's direction last year, the Commerce Department launched an investigation using a little-known national security provision in a 1962 trade law, known as section 232. The Commerce Department found steel and aluminum imports "weakening our internal economy" and therefore "threaten to impair" national security, according to the report.
The administration used the Commerce Department's findings to impose tariffs on steel and aluminum imports.
Cohn and Porter considered the investigation and its conclusions incomplete and repeatedly pushed the Commerce Department to revise the report, delaying the process, according to a person with knowledge of the process.
Even after significant pushback, the Commerce Department published a deficient report, which deliberately underplayed the negative impact on jobs in so-called downstream industries, which rely on inexpensive steel and aluminum from outside the US, the person said. Kevin Hassett, the chairman of the President's Council of Economic Advisers, argued the tariffs would have a negative net impact on jobs.
"The report is supposed to contain the pros and cons of the tariffs -- Commerce wrote a one-sided report, ignoring job lost in downstream fabrication," said the source.
In response to CNN's questions about the exclusion of an analysis of potential job losses in downstream industries, a Commerce Department spokesman said the "overriding concern under Section 232 is national security."
"The tariffs represent a small fraction of 1% of our economy, and the Department established the product exclusion process to offer relief to specific downstream industries unable to source their steel or aluminum domestically," the spokesperson said.
Now, Mnuchin is left largely without an ally in pushing for diplomatic solutions. Kudlow also makes the case against inflaming trade tensions with additional tariffs but is willing to quickly convert himself into a public advocate of the President's protectionist policies for the TV cameras.
Mnuchin's critics say he has weakened US negotiating posture with China by busting the illusion that the Trump administration is united in its hardline stance against Chinese trade abuses.
A senior White House official acknowledged that Chinese officials have sought to back-channel negotiations with individual members of the administration in an attempt to influence the process, but insisted officials are warding off attempts to exploit the internal divisions.
"The Chinese will call and reach out to various folks in the administration. And those folks in the administration make sure everyone else knows about it and that they know what is in those conversations," the official said. "We are coordinating through the White House with Treasury, with USTR, with Commerce on all these things. There isn't this idea that someone is having a back-channel conversation that he or she isn't telling others about. That's just not a reality."
Chaotic track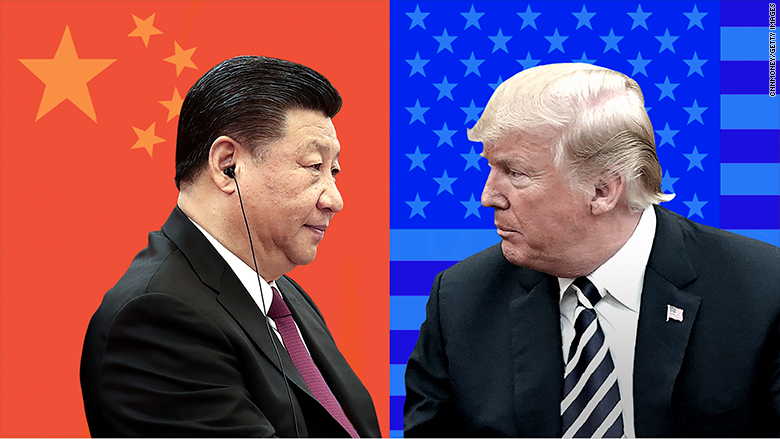 Trump pushes back against market fears of trade war
But while the President has at times butted heads with his Treasury secretary, he has shown no indication that he is eager to axe him. Trump's relationship with Mnuchin is one of the longest-spanning among Trump's advisers -- going back to the campaign -- and many Trump allies say Mnuchin is one of the most effective of the President's top advisers at speaking his language and leveling with him.
Others say Mnuchin's has largely gone-along-to-get-along with a President intent on waging a trade war he believes can benefit his political base. At moments, that's meant weathering a chaotic process dictated principally by Trump's in-the-moment impulse.
Last week's tariff rollout was subject to those prevailing winds. Aides had determined the formal announcement should come after financial markets closed at 4 p.m. ET on Monday, a tactic long employed by White Houses to avoid stock plunges on the news unpopular with investors.
But instead of waiting until the closing bell, Trump told reporters at 2:30 p.m. an announcement was coming. The Dow Jones Industrial Average dipped 100 points.
News Courtesy: www.cnn.com