Khaleda's life under threat, say doctors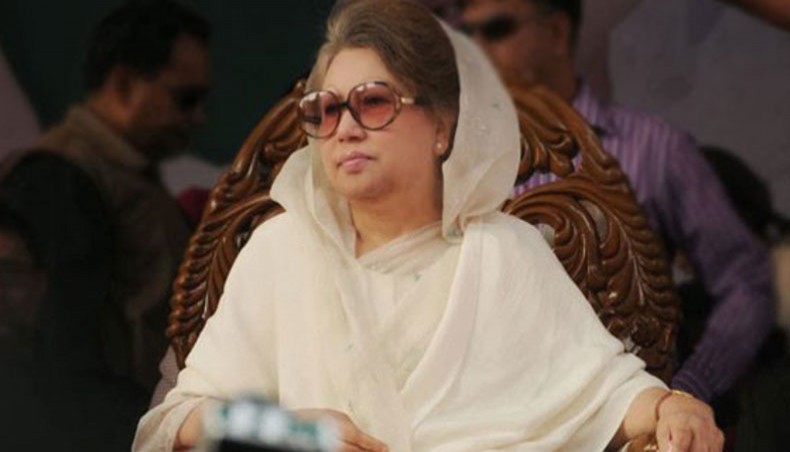 The medical team of Bangladesh Nationalist Party chairperson Khaleda Zia said on Sunday that she required advanced treatment abroad as her liver cirrhosis was deleted and she is suffering from internal bleeding in the stomach.
She needs treatment through Transjugular Intrahepatic Portosystemic Shunt.
'Saving her life without treatment through TIPS is almost impossible and the technology is available only in a few advanced centres in the USA, the UK and Germany,' said Professor Dr Fakhruddin Mohammad Siddiqui at a press conference.
BNP organised the press conference at Khaleda Zia's Gulshan residence to brief the media on the former prime minister's current physical condition.
The physician said that TIPS is an artificial channel within the liver that establishes communication between the inflow portal vein and the outflow hepatic vein.
Siddiqui said that the physicians were feeling helpless as they did not have a clear idea of the exact source of her recent episodes of internal bleeding in the stomach.
'Since the night of November 14, she has been under extreme treatment owing to which we have had to resuscitate her from a state of shock. She is suffering from liver cirrhosis,' the doctor said.
They emphasised that Khaleda Zia should to be sent abroad immediately for better treatment as further internal bleeding might push her in an 'obvious situation'.
Siddiqui said that Khaleda Zia's prognosis said that her haemoglobin levels had dropped several times, she vomited blood, her internal bleeding was causing her to run black stool and her cardiacrelated disuses were also in severe level.
The doctor said that Khaleda Zia had no bleeding in past 24 hours. But next week, there is a 50 per cent chance of bleeding again, and 70 per cent in the 6th week.
According to global records, further bleeding may be serious and it will not possible to save her life in that stage.
'As her condition is now stable, this is the best time to send her abroad. Otherwise shifting her may not be possible if the condition deteriorates again,' he added.
He said that if Khaleda was allowed to go abroad four months ago the life threatening bleeding could have been avoided.
Responding to a question, he said that TIPS technology is also rare in the mentioned countries while physicians are sending their patents at King's College Hospital through helicopter.
Khaleda, 76, was readmitted to Evercare Hospital on November 13, six days after she had returned home from the hospital.
On behalf of the family, Khaleda's younger brother Shamim Iskander submitted an application to the home ministry on November 11, urging the government to allow her to go abroad for better treatment.
Amid the Covid situation, the government released Khaleda from the prison cell of Bangabandhu Sheikh Mujib Medical University on March 25, 2020, suspending her jail sentences in two graft cases, on conditions that she would take medical treatment at home and would not leave the country.
News Courtesy:
https://www.newagebd.net/article/155944/khaledas-life-under-threat-say-doctors