AL, associate bodies continue to hold rallies during oppositions' demo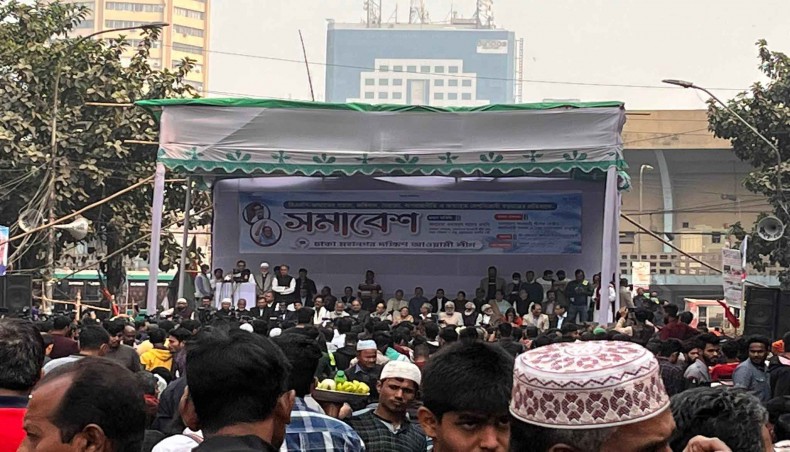 Ruling Awami League and its affiliated organisations on Monday continue to hold rallies and street programmes on the day when opposition political parties, including the main opposition Bangladesh Nationalist Party, are holding demonstrations to press home their demands including resignation of the government and holding the next general elections under a neutral caretaker government.
The AL and its associate bodies are scheduled to hold rallies in at least five places in Dhaka on Monday.
Several leaders of the AL had earlier announced that they would organise street programmes on the days of the opposition parties' demonstration.
Awami League, currently in its third consecutive term in power, has organised a rally in front of its central office at Bangabandhu Avenue where central committee members and AL North Dhaka unit activists are present.
North Dhaka AL is scheduled to hold a rally at Notun Bazar of Vatara area at 3:00pm.
AL general secretary Obaidul Quader is scheduled to address both rallies as the chief guest.
Awami League's youth associate organisation Juba League has arranged two rallies in the capital --- in Farmgate at 11:00am and in the central Shaheed Minar at 12:00pm. Both the programmes are in progress.
Awami League praesidium member Jahangir Kabir Nanak, Juba League chairman Sheikh Fazle Shams Parash and general secretary Mainul Hossain Khan Nikhil attended the rallies.
Besides, AL's student unit Bangladesh Chhatra League rallied in Sahbagh area at 11:00am.
The main opposition Bangladesh Nationalist Party and its allies are holding their third programme of simultaneous movement with procession, rallies and discussion at different points in the capital pressing for a 10-point demand.
The demands include abolishing the current 'unelected illegal' parliament and the resignation of the AL government, forming an impartial election-time caretaker government, setting up a new Election Commission; and stopping the use of electronic voting machines in all elections.
Earlier, AL threw similar counter programmes on December 10, December 30 and January 11.
News Courtesy:
https://www.newagebd.net/article/191820/al-associate-bodies-continue-to-hold-rallies-during-oppositions-demo