Alal, 62 other BNP men arrested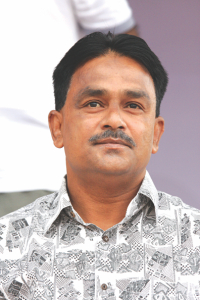 Police yesterday morning arrested Jubo Dal chief Moazzem Hossain Alal along with 62 activists of the BNP and its front organisations from his Lalmatia residence in the city in a bid to foil their alleged plan to carry out subversive activities during today's hartal.Biplob Kumar Sarkar, deputy commissioner (Tejgaon Division) of Dhaka Metropolitan Police, told The Daily Star that acting on a tip off, a team of Mohammadpur Police conducted the raid around 10:30am."The Jubo Dal chief was planning to instigate leaders and activists of different Islamic parties to carry out subversive activities during today's hartal," Biplob said.Sammilito Islami Dal Samuha, a platform of Islamic parties many of which are components in the BNP-led 20-party alliance, on Wednesday announced a countrywide daylong hartal today protesting the government's failure to arrest Abdul Latif Siddique who was sacked from the cabinet and the Awami League for his comments on Hajj pilgrims.
The DC's claim could not be verified from any other independent sources. The BNP, however, categorically denied the allegation.BNP acting secretary general Mirza Fakhrul Islam Alamgir in a release claimed that police detained 80 BNP men from Alal's residence who had gone there to discuss with him different organisational activities.Terming the mass arrest "fascist behaviour" of the AL-led government, Fakhrul demanded all arrestees be freed immediately.Azizul Haque, officer-in-charge of Mohammadpur Police Station, said most of the detainees are Jubo Dal men and the rest are from the BNP and its front organisations. He, however, refused to reveal the arrestees' names.
Mohammadpur police yesterday lodged a case against the arrestees under the Special Power Act. They will be produced before a Dhaka court today.his was the second highest mass apprehension of BNP men from a single spot since March 11 last year when police had arrested over 164 BNP men after raiding the BNP headquarters in Naya Paltan.The Jubo Dal will hold a countryside demonstration tomorrow protesting the arrests.