Run-down buses, other vehicles causing safety hazards.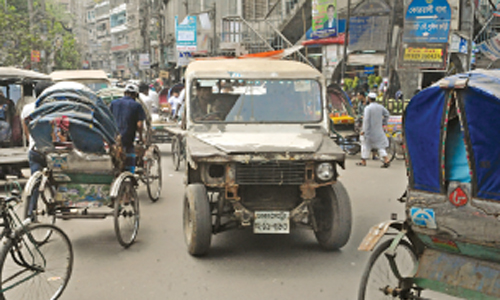 Run down buses and other vehicles having no valid certificate of fitness continue to use public roads in the capital and elsewhere in the country posing serious risks to safety of passengers as well as pedestrians.Non enforcement of the road safety laws and traffic rules facilitate such vehicles to continue to use public roads, said experts.They said that there was no compliance of the directives of the road transport and bridges ministry to withdraw run down vehicles or renew fitness certificates of old vehicles.The upshot is several lakh run down vehicles having no valid fitness certificates continue to use public roads posing risks ts to commuters as well as pedestrians.All vehicles using public roads are required to undergo periodic tests to ascertain their road worthiness, they said.

The compulsory periodic test checks tyre condition, brake condition, structural condition, lights, glazing, windscreen wipers and washers, doors, seat belts, speedometer, steering and suspension, exhaust, and fuel system, they said A vehicle must meet certain criteria in each category to pass the fitness tests, they said.There is none to check uncomfortable seats and seating arrangement on risky and dilapidated buses, they said.
Many vehicles have no rear lights and side mirrors and many of them modified their structures flouting the requirements, they said.
Out of 21.05 lakh registered vehicles about four lakh are damaged and outof the roads BRTA deputy director SK Biswas recently told New Age.
And each year owners of 5.5 lakh vehicles renew fitness certificates, he said.

BRTA officials told a coordination meeting on road safety that at least three lakh vehicles continue to use public roads having no fitness certificates.
A senior BRTA engineer said that private car owners usually respond to notices to renew their vehicles' fitness certificates.He said that owners of trucks and buses ignore such notices.Announced drives against unfit vehicles were not taken time and again for what a former communications minister said it could create transport crisis to increase the sufferings of commuters in the capital.At Sunday's meeting the road transport and bridges minister said that BRTA would on November 10 launch begin a special countrywide drive against unfit vehicles and driving without license.
BUET Accident Research Institute director Tanweer Hasan told New Age that there should be no compromise on road safety issue.
'If you look at the minibuses in Dhaka city 90 per cent of them are unfit to be on the roads. In Dhaka city 30 per cent of the accidents are caused by unfit vehicles,' he said.Work for a Better Bangladesh, Trust national advocacy officer, Maruf Rahman, said that the authorities failure to carry out decisions provides the incentives to violate traffic rules.The authorities fail to take actions against unfit vehicles due to pressure from transports workers' federations and vehicle owners, he added.Five automatic vehicle inspection centres, set up in 1999 at a cost of Tk six crore, two in Dhaka and one each in Chittagong, Khulna and Rajshahi proved useless as the automation software provided by a Dutch company did not match the authority's information software.