New kids on the block.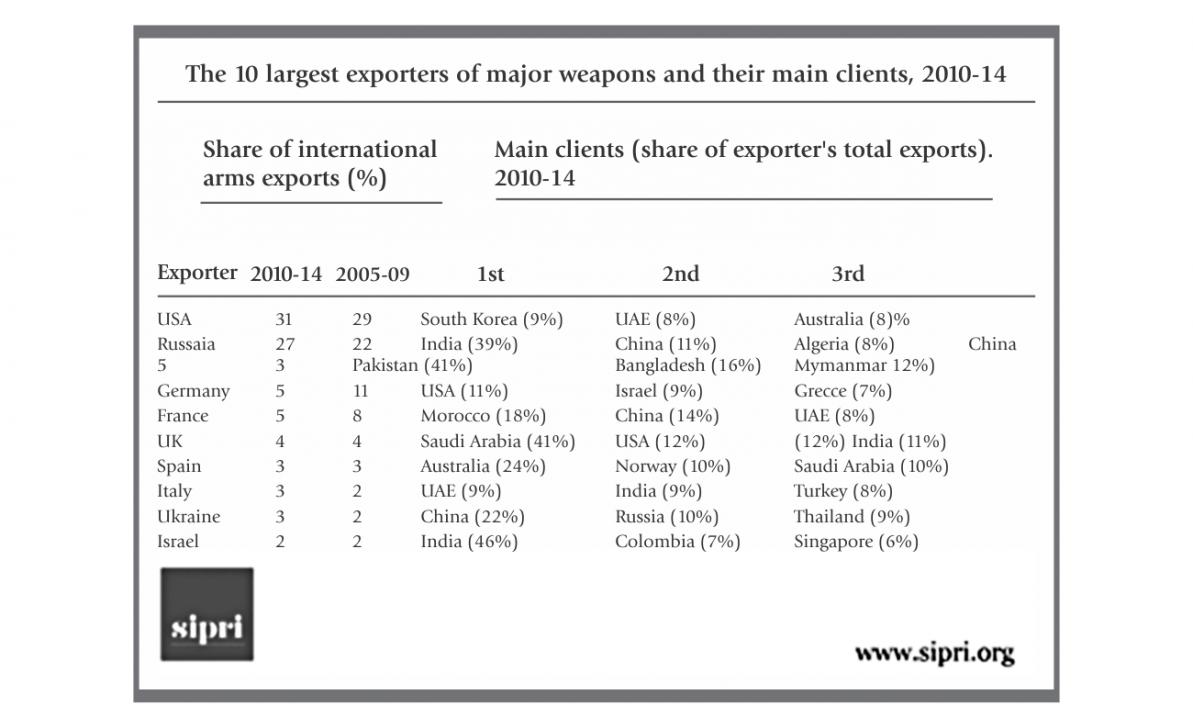 The global arms trade is changing. What had traditionally been the playground for the United States (US), Russia, France, Germany and the UK is now under threat from other players, notably China (PRC) and interestingly India (which happens to be the largest net importer of armaments over the period 2010-14 according to SIPRI Fact Sheet: March 2015). Indeed, China has over the past few years become producer and exporter of relatively advanced weaponry and that trend has taken it to the No. 3 position after the US and Russia over 2010-2014 period.
International observers estimate that China's exports are evolving from the export of small arms to much bigger platforms like naval warships and fighter jet aircraft. The PRC has already overtaken France and Germany in recent years. The advantage that Chinese weaponry provides to its ever-growing international clientele is that they are much more cost effective than either US or Russian equipment; they are also sophisticated enough for the theaters they will be employed in, but most importantly, no "human rights" conditions are attached to their sale. According to SIPRI: "Chinese exports of major arms increased by 143% between 2005–2009 and 2010–14, and China's share of global arms exports increased from 3% to 5%. China became the third largest supplier in 2010–14, slightly ahead of Germany and France. China supplied major arms to 35 states in 2010–14. A significant percentage (just over 68%) of Chinese exports went to three countries: Pakistan, Bangladesh and Myanmar. China also exported major arms to 18 African states. Examples of China's increasing global presence as an arms supplier in 2010–14 included deals with Venezuela for armoured vehicles and transport and trainer aircraft; with Algeria for three frigates; with Indonesia for the supply of hundreds of anti-ship missiles; and with Nigeria for the supply of a number of unmanned combat aerial vehicles."
Like the PRC, India too has gone on the path of developing a serious indigenous defence industry. PM Narendra Modi has given special emphasis on domestic, rather than foreign, suppliers when it comes to equipping the armed forces. The new policy is aimed at not only reducing dependence on foreign sources, but following China's success, India believes it too can replicate a successful "export" basket to add to the list of commodities the country sells to the outside world. Instead of just spending hundreds of billions of dollars on sourcing Russian equipment (which is still India's principal supplier of arms), investing in weapons technology, changing the rules of defence procurement to accommodate transfer of technology through joint ventures and buying "samples" of successful foreign designs for the purposes of evaluating, and where possible "reverse engineering" the technology has served China particularly well. And the lessons are not necessarily lost on countries like India.
This dual policy of integrating foreign technology into inventories while at the same time pouring in billions in research and development so that one day the domestic industry can produce weapons platforms that may not be at par with the latest Western designs, but good enough for export customers whose adversaries are not Western countries, is a model that works. That these weapons can be produced and sold at a fraction of a cost to the massive international arms bazaar has worked not only for China. It is a model that is being replicated all over the world. But it is the PRC and India that have the industrial base and the resources to become serious contenders against the big boys.
For instance, Turkey (a Nato member) chose to adopt a Chinese air and missile defence system instead of what was offered by the US and other Western designs. The design sold is not as good as what the West had to offer, but the PRC hit the sweet spot with a price tag of $3.4 billion, much cheaper than the US and others. The Wing Loong drone offered by PRC is an armed drone that has found favour all across Africa and the Middle East. It retails for $1 million per unit, which is a fraction of the cost of the much vaunted American-made Predator. Capability-wise, "Wing Loong" is nearly as capable as the Predator. Given today's realities, both the PRC and India will remain on the West or the East for many years for the absolute cutting-edge military technology. Yet, their indigenous industries are evolving and they are exporting (the PRC on a much grander scale than India presently).
The problem associated with "no strings attached" export of military hardware to anyone who's willing and able to pay is the biggest headache for the major powers; that a nation which hitherto had little in terms of military projection capacity can now arm itself for both defence and offence. The biggest worry is with nations that have had long years of rivalry in relatively unstable regions of the world, particularly Africa, replete with natural resources, can and are arming themselves with weapons needed to fulfill their agendas. These will be some of the issues that global powers will have to contend with in the coming decade.
Content Courtesy: www.thedailystar.net