EU seeks Dhaka to ensure security, safety of Rohingyas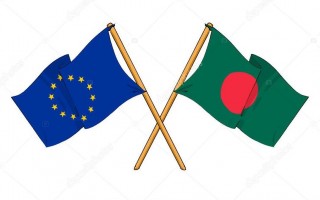 The European Union emphasised on ensuring safety and security of Rohingya people of Myanmar living in Bangladesh camps.
The EU raised the matter at a foreign secretary-level diplomatic consultation on Tuesday in Brussels.
The 27-member body of the European countries also raised the importance of providing education and training for livelihood opportunities to the largely young population of the forcibly displaced Rohingyas.
They discussed the political and security situation in the region, including in Myanmar and Afghanistan, maritime security, as well as counter-terrorism and cooperation within the UN fora.
Foreign secretary Masud Bin Momen led the Bangladesh delegation in the talks where the EU team was led by managing director for Asia and the Pacific, Gunnar Wiegand.
The two sides also discussed on cooperation in the areas, among others, of governance, rights and climate change.
A high-level EU delegation is now visiting Rohingya camps in Cox's Bazar where miscreants killed Mohib Ullah, a prominent leader, and six other people of the community in separate attacks.
Over one million Rohingyas now live in 34 camps in Cox's Bazar and most of them were forcibly displaced by Myanmar military from Rakhine state.
News Courtesy:
https://www.newagebd.net/article/152893/eu-seeks-dhaka-to-ensure-security-safety-of-rohingyas