Judgment in Banani rape case deferred for 2nd time in 15 days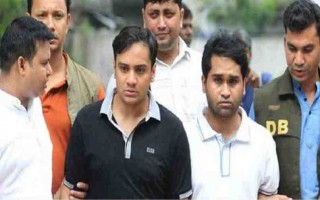 With the courts closed in Dhaka Wednesday over the death of a Supreme Court lawyer, the judgment in the Banani double rape case has been deferred for the second time in a fortnight.
The five men are accused in the rape case of two female university students at a posh hotel in the capital's Banani area in March 2017. Police filed the charge sheet against them in June that year.
'The courts are closed due to the death of Abdul Baset Majumder, a senior Supreme Court advocate and that's why the judgment in this case will not be pronounced,' Afroza Farhana Orange, special public prosecutor, told UNB.
On October 3, the trial court set October 12 as the judgment day. But the judgment was deferred on that day too as the judge went on sick leave.
The five accused in the case — Shafat Ahmed, Nayeem Ashraf, Shadman Sakif, Shafat's driver Billal Hossain and bodyguard Rahmat Ali — are currently in judicial custody.
News Courtesy:
https://www.newagebd.net/article/152897/judgment-in-banani-rape-case-deferred-for-2nd-time-in-15-days