Student protests for road safety widen in Bangladesh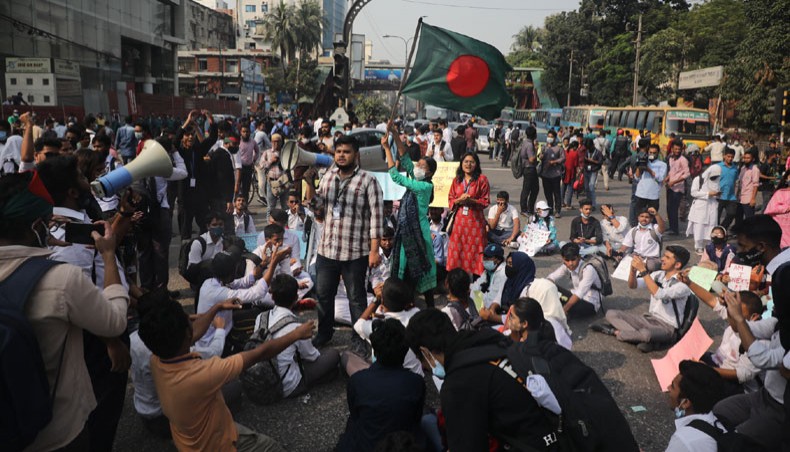 Hundreds of students took to the streets of Dhaka for the third day in less than a week on Saturday, occupying several crossings and paralysing traffic movement in demand of the enforcement of road safety measures.
The agitating students checked the documents of vehicles and driving licences in a scene reminiscent of the 2018 Road Safety Movement when protests held across the country for over a week.
Protests also held on Wednesday and Thursday after the death of Notre Dame College student Nayeem Hasan by a dustcart of Dhaka South City Corporation in the Gulistan area.
After a break on Friday, students returned to Dhaka streets and protested at different areas in the capital, including Dhanmondi-27, Uttara, Jatrabari, Rampura, Mohakhali, Shantinagar, Khilgaon, seeking road safety and half fare in all public transports.
Students from various educational institutions, including Tejgaon College, Eden Mohila College, Holy Cross College, Government Laboratory High School, Mohammadpur Preparatory School and College, Birshreshtha Munshi Abdur Rouf Public College, University Women's Federation College and Stamford University blocked the Mirpur Road at Dhanmondi-27 from around 11:30am to 2:15pm.
Ashiqur Rahman, a second-year HSC student of Tejgaon College, said they found that most of the drivers, especially of buses, were driving their vehicles without having valid licences.
'We protested in 2018 demanding a safe road for all. But most of our demands are yet to be fulfilled,' he added.
Adhora Atri, a second-year HSC student of Holy Cross College, announced the nine-point demands on behalf of students at Dhanmondi-27, including ensuring justice for all, alongside students, killed in road accidents through a speedy trial and compensation, half bus fare for all students on the road, waterway, railway and metro rails through a gazette notification and ensuring a safe journey for women and girls on all public transports.
The government increased the fares of diesel-run buses by around 27 per cent and launches by around 39 per cent on November 7 following a hike in diesel and kerosene by 23 per cent.
Students began protesting demanding half bus fare following the raise in fare.
The protests took a new turn after the killing of Nayeem.
Road Transport and Bridge Minister Obaidul Quader on Friday announced that fare for students had been cut by 50 per cent in all buses run by the state-owned Bangladesh Road Transport Corporation.
Bangladesh Road Transport Authority held a meeting with the leaders of transport owners and workers on Saturday regarding the matter.
The meeting ended in a stalemate, said the officials.
Rejecting the demand for half fare, Dhaka Road Transport Owners' Association secretary general Khandaker Enayetullah told reporters that 80 per cent bus owners of the country were poor.
'Many bus owners are maintaining their families with only one bus. I do not know how they will cover it up,' he said after the meeting.
BRTA chairman Nur Mohammad Mazumder told New Age that they would give a proposal to the government high-ups regarding half bus fare.
He said that the transport owners feared some people could make fake student identity cards for half bus fare if the students were given the privilege.
Students said they gave the government a 48-hour ultimatum to fulfil their demands.
The demand of the students also included constructing footpaths, foot over bridges or alternative ways to ensure safe movement for the public and ensuring compensation and rehabilitation for all passengers and transport workers harmed by road accidents.
They also demanded the construction of bus stoppage and parking space in a planned way, implementation of laws strictly, legalisation of all drivers through training, creation of modern, active traffic system and ensuring accountability of the Bangladesh Road Transport Authority through surveillance.
Nijhum Nahar, a final year student of Bangla department at Eden Mohila College, questioned how drivers were running buses without having licences and how a transport worker could threaten a female student with rape?
She termed these as a 'failure of the government and the state.'
'People killed in road accidents do not get justice resulting in an increase of anarchy in the transport sector,' he said.
'The government said that they would ensure half bus fare at BRTC buses but those buses were not running on all city roads. We demand to fulfil our all nine-point demands,' she added.
Sher-e-Bangla Nagar Police Station officer-in-charge Utpal Barua said, 'Our traffic officials are filing cases against those identified by the students with no valid documents and driving licences.'
Road Safety Movement joint convener Abdullah Mehedi Dipta said they would barricade BRTA headquarters on Tuesday but would continue protests on Sunday and Monday.
According to Bangladesh Police statistics, 2,673 people were killed and 2,699 injured in 2,846 road accidents in 2021 until June.
In 2018, 2,635 people were killed and 1,920 injured in 2,609 road accidents while 4,138 people were killed and 4,411 injured in 4,147 accidents in 2019 and 3,918 were killed and 3,826 injured in 4,198 accidents in 2020, as per police statistics.
Thousands of students took to streets after their two fellows - two Shaheed Ramiz Uddin Cantonment College students - were killed when a reckless driver drove a Jabal-e-Noor company bus off the road and ploughed through a crowd while competing with another bus of the same company at Kurmitola in Dhaka on July 29, 2018.
Most of the demands for road safety, made by the students who had held protests for more than a week across the country, remain unimplemented despite positive initiatives and assurances from the authorities.
Back in 2018, the students demanded the highest punishment for the bus drivers responsible for the killing of the two, establishing footbridges and taking safety measures for the safe movement of students, establishing speed-breakers in accident-prone areas including in front of the schools and colleges.
They also demanded taking all responsibilities by the government of the families of the deceased and injured, compelling the buses to carry students, half fare for the students, not allowing buses without fitness and driving by any unlicensed driver at any place of the country and ban on carrying passengers by public transports in excess of their capacity.
In the wake of the student protest, the Jatiya Sangsad on September 19, 2018 passed the Road Transport Bill replacing the Motor Vehicles Ordinance 1983.
News Courtesy:
https://www.newagebd.net/article/155825/student-protests-for-road-safety-widen-in-bangladesh