Doctors yet to find source of internal bleeding: BNP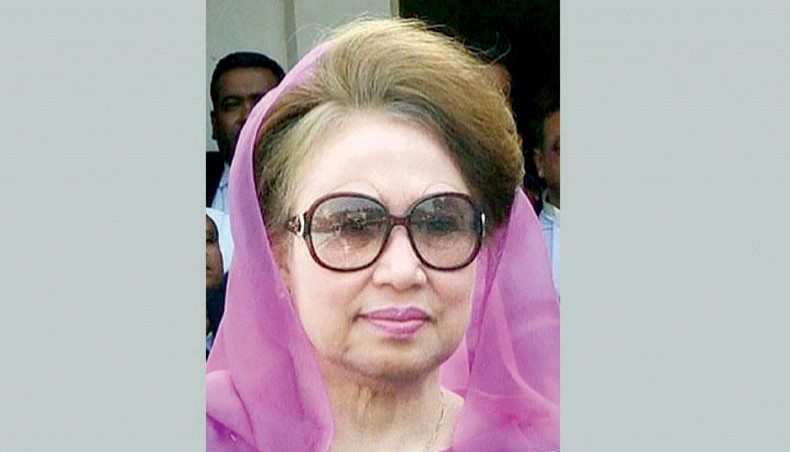 Doctors cannot detect the source of bleeding in Bangladesh Nationalist Party chairperson Khaleda Zia's stomach and intestine due to the lack of enough and advanced equipment and device, said BNP's secretary general Mirza Fakhrul Islam Alamgir on Saturday.
'Khaleda Zia has been suffering from many diseases, but now the main problem is in her stomach and intestine. Internal bleeding puts her life at stake. It has to be stopped immediately,' he said while speaking at a programme at Dhaka Reporters' Unity.
Pro-BNP student leaders of Dhaka University Central Students Union and All-Party Students Unity of the 1990s arranged the programme at Dhaka Reporters' Unity marking Shaheed Dr Milon Day.
Fakhrul said that Khaleda Zia needed to be taken aboard immediately for advanced treatment.
He said that the best physicians of Bangladesh are working in many ways for past couple of days to identify the source of bleeding, but they cannot make any headway for the lack of necessary technology and equipment.
'That is why doctors are repeatedly saying that she needs to be taken to an advanced centre that is equipped with the required technology and devices to identify her problem and the source of bleeding,' the BNP leader said.
Fakhrul slammed the ruling Awami League leaders for what he said derogatory comments about former prime minister Khaleda Zia's illness.
'It is unfortunate that ruling party leaders neither have any sense of political etiquette, nor humanitarian values,' he added.
He said that Awami League leaders were so arrogant that they do not hesitate to make indecent remarks against anybody, including Khaleda Zia.
'It is a part of a conspiracy to remove her from people's life and the politics of Bangladesh and to establish a one-party system,' he added.
Khaleda, 76, was readmitted to Evercare Hospital on November 13, six days after she had returned home from the hospital.
The BNP chief's physicians said that she had been suffering from liver-related diseases, rheumatoid arthritis, diabetes, ophthalmological and dental complications.
They said that Khaleda needed advanced treatment abroad immediately as she was also suffering from critical cardiac, kidney and liver problems, high blood sugar and low haemoglobin level.
On behalf of the family, Khaleda's younger brother Shamim Iskander submitted an application to the home ministry on November 11, urging the government to allow her to go abroad for better treatment.
Amid the Covid situation, the government released Khaleda from the prison cell of Bangabandhu Sheikh Mujib Medical University on March 25, 2020, suspending her jail sentences in two graft cases, on conditions that she would take medical treatment at home and would not leave the country.
News Courtesy:
https://www.newagebd.net/article/155890/doctors-yet-to-find-source-of-internal-bleeding-bnp