More students join protests for safe road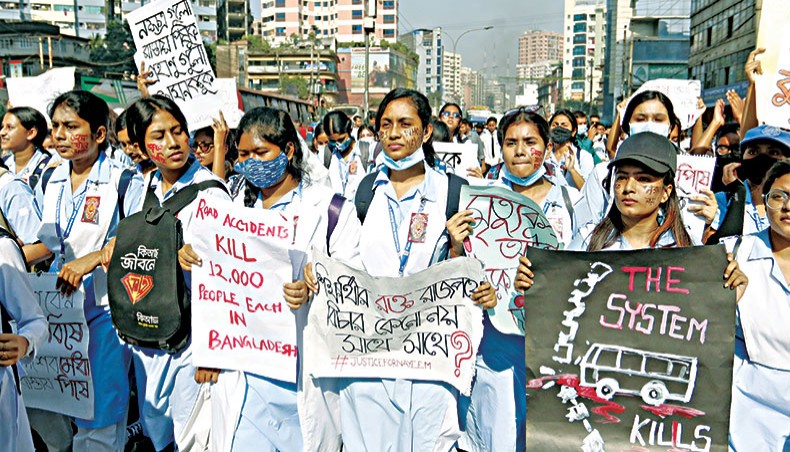 More students joined the protests for the fourth day on Sunday in the capital, demanding road safety, half bus fare and justice for Notre Dame College student Nayeem Hasan.
A female student, who led the protest earlier on Saturday in Dhaka's Dhanmondi area, alleged that she was called to the Mohammadpur police station and had been interrogated by police.
The Mohammadpur police station officer-in-charge Abdul Latif said that there was no connection between the student protests and asking the female student to visit the police station.
During the protests at Dhanmondi-27, a youth asked the female student to give him her bKash number and the police picked the youth to know why he had done so, the OC said.
The student was asked to visit the police station for identifying the youth, he said, adding that the female student had left the police station at around 8:00pm with her father.
Latif could not confirm the youth's name immediately.
The female student seeking anonymity said that the police quizzed her for about one hour at the police station in the evening.
Fellow students alleged that the female student's father was asked by Mohammadpur police in the afternoon to visit the police station with his daughter as she announced their nine-point demand on the previous day.
The students started their protests on Wednesday after a Dhaka South City Corporation dustcart killed Notre Dame College student Nayeem in the Gulistan area.
The protests took a new turn on Thursday as the students renewed their nine-point demand made during the 2018 Road Safety movement.
They also protested on Saturday and returned to the street on Sunday to block roads in different areas and hold human chain protests.
They checked the documents of vehicles and driving licences in various places in the capital, including in Dhanmondi-27, Rampura, Nilkhet, Shantinagar, Uttara and Khilgaon.
The demand of students includes ensuring justice for all, alongside students, killed in road accidents through a speedy trial and compensation, half bus fare for all students on the road, waterway, railway and metro rails through a gazette notification and a safe journey for women and girls on all public transports.
The students also demanded constructing footpaths, foot over bridges or alternative ways to ensure safe movement for the public and ensuring compensation and rehabilitation for all passengers and transport workers harmed by road accidents.
They also demanded the construction of bus stoppage and parking space in a planned way, implementation of laws strictly, legalisation of all drivers through training, creation of modern, active traffic system and ensuring accountability of the Bangladesh Road Transport Authority through surveillance.
The agitating students from various educational institutions, including Holy Cross College, Tejgaon College, Government Laboratory High School, Birshreshtha Munshi Abdur Rouf Public College, Dhaka City College, Ideal College, Government Science College and Birshreshtha Noor Mohammad Public College blocked Dhanmondi-27 area at Mirpur Road from around 12:10pm to 2:40pm and checked vehicle documents and driving licences.
The blockade halted traffic movement in the area, causing people to suffer.
Many vehicles, including cars carrying police personnel, Dhaka North City Corporation high official and a High Court Judge among others, had no valid licences for their drivers, the protesting students found.
They also found a helper of a driver driving a Savar Paribahan Limited bus without having a driving licence.
Riyadh Morshed, a Dhaka Metropolitan Police Mohammadpur Zone traffic sergeant said they sent the bus to the dumping station as the helper fled.
He said that they were also filing cases against the vehicles having no valid documents and driving licence.
'The students also stopped buses that did not accept half fare from their fellows. We cannot take any action in this regard before a gazette notification is issued by the government,' he added.
Mohammad Sourav, a second-year student of Mohammadpur Govt College expressed his anger as the authorities did not fulfil their demands made during the Road Safety Movement in 2018.
The students said that they would barricade the Bangladesh Road Transport Authority headquarter on Tuesday if their demands were not fulfilled. They ended their Sunday's protests by rendering the National Anthem.
Students also blocked Nilkhet intersection for about 15 minutes and brought out a procession before they joined their fellows at Dhanmondi-27.
Students of Dhaka Imperial College held demonstrations and formed a human chain alongside blocking Road at Rampura Bridge from 11:30am to 2:00pm to press home their nine-point demand.
Milestone School and College and Rajuk Uttara Model College students protested in front of BNS Center in Uttara from around 11:00am to 2:00pm for the same demand.
Besides, students of Sobujbagh Government College, Little Flowers International School and Siddheswari Girls' College students protested at Shantinagar, Primeasia University students demonstrated at Khilgaon Police Outpost from around 2:30pm to 4:45pm.
One of the key demands for the students was half fare for them in all public transports.
The students started demanding it since the government increased the fares of diesel-run buses by around 27 per cent and launches by around 39 per cent on November 7 following a hike in diesel and kerosene by 23 per cent.
Road Transport and Bridge Minister Obaidul Quader on Friday announced that fare for students had been cut by 50 per cent in all buses run by the state-owned Bangladesh Road Transport Corporation.
Private transport owners, however, have rejected the demand for half fare.
New Age correspondent in Barishal reported that Bangladesh Chhatra Federation, a left-leaning student organisation protested in the city demanding half bus fare for students, road safety and justice for Nayeem and others.
Thousands of students took to streets after their two fellows - two Shaheed Ramiz Uddin Cantonment College students - were killed when a reckless driver drove a Jabal-e-Noor company bus off the road and ploughed through a crowd while competing with another bus of the same company at Kurmitola in Dhaka on July 29, 2018.
Most of the demands for road safety, made by the students who had held protests for more than a week across the country, remain unimplemented despite positive initiatives and assurances from the authorities.
In the wake of the student protest, the Jatiya Sangsad on September 19, 2018 passed the Road Transport Bill replacing the Motor Vehicles Ordinance 1983.
News Courtesy:
https://www.newagebd.net/article/155932/more-students-join-protests-for-safe-road