Six including BGB member killed as violence marks voting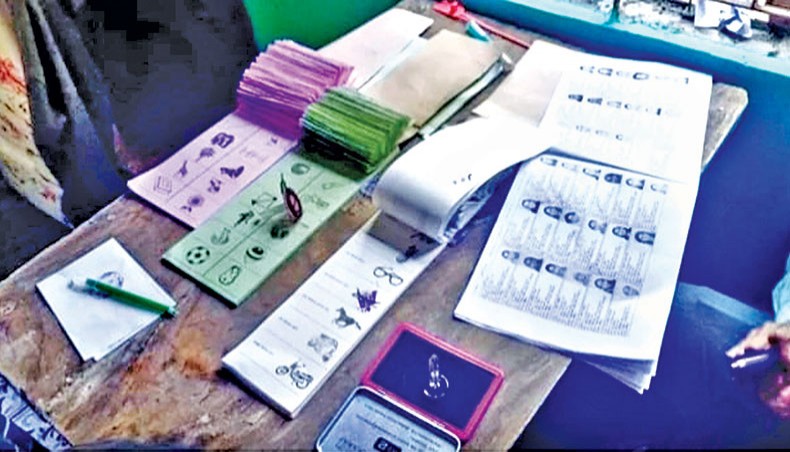 At least six people including a member of Border Guard Bangladesh were killed and several dozens injured in violence over the third phase of union parishad elections held on Sunday.
Many of the contestants in different unions also boycotted the elections during the polling hours.
In most UPs, ruling Awami League candidates ran against rebel candidates.
As part of the staggered elections to some 3,500 UPs, 986 went to the polls on Sunday, with at least 100 Awami League candidates for chair elected uncontested.
According to the authorities, six people were killed in Nilphamari, Munshiganj, Narsingdi, Khulna, Jashore and Lakshmipur on the polling day and the night before.
Including the latest deaths, the total number of fatalities in the UP poll-related violence has stood at 72 since April.
Violent incidents and irregularities were reported on Sunday from various parts of the country, including Barishal, Meherpur, Lakshmipur, Khulna, Jashore, Moulvibazar, Cumilla, Munshiganj, Brahmanbaria, Pabna, Chandpur, Feni, Narsingdi, Nilphamari and Patuakhali.
Election Commission secretary Humayun Kabir Khandaker at a press conference in Dhaka termed the elections 'a model'.
He said that the elections were held 'peacefully', except some unwanted incidents, while the turnout was 'very good'.
In Nilphamari, BGB member Rubel was killed at Paschim Daliram Majhpara Government Primary School premises under Kishoreganj upazila when supporters of Jatiya Party backed chairman candidate and that of an independent candidate of Garagram UP locked in a clash during counting the ballots, after the election hours.
Kishoreganj police station officer-in-charge Abdul Awal said that Rubel was killed when the police and BGB members tried to bring the situation under control.
The OC, however, did not make any further comment over the death of the BGB member.
New Age correspondent in Narsingdi reported that a man was killed and hundreds of people were injured in attacks, cocktail bomb explosions and clashes.
The deceased was identified as Arif Hossain, of Chander Kandi union, said Raipura Upazila Health Complex duty doctor Abu Syed Md Faruk.
He said that Faruk was bullet hit while another bullet injured was sent to Dhaka for better treatment.
The detailed information of the incident was not available immediately.
New Age correspondent in Munsiganj reported that at least one man was killed in a post-poll clash at Banglabazar union.
The deceased was identified as Shakil Molla, said Munsigan General Hospital duty doctor Shoibal Bosak.
The incident took place between supporters of two member candidates for reserved seats for women, locals said.
New Age correspondent in Khulna reported that a man was killed in violence over elections at Madhupur union at Terokhada upazila in Khulna hours after voting had begun Sunday morning.
The deceased was identified as Babul Shikder, 38, a supporter of Awami League-nominated chair candidate M Mohsin for the union parishad.
Mohsin told reporters that some supporters of his rebel, Kamal Hossain, attacked Babul and stabbed him with sharp weapons centring the elections.
Babul was rushed to Khulna Medical College Hospital where physicians declared him dead, he added.
Terokhada police inspector for investigation Mosharaf Hossain said that the police were trying to arrest the people involved in the murder.
New Age correspondent in Lakshmipur reported that a leader of Chhatra League, the student wing of the ruling Awami League, was killed allegedly by supporters of rebel Awami League candidate during the elections at Isapur union at Ramganj upazila in Lakshmipur.
Deceased Sazzad Hossain Sajeeb was the president of the Isapur union unit Chhatra League, said Ramganj police officer-in-charge Anwer Hossain.
The supporters of rebel AL candidate reportedly hacked Sajeeb at Narayanpur Government Primary School polling centre Sunday afternoon.
He died while he was being taken to Dhaka in a critical condition, Anwer said.
New Age correspondent in Jashore reported that a man was killed and a dozen others were injured in a clash between supporters of two member candidates at Kaiba union at Sharsha upazila Saturday evening.
The deceased was identified as Kutub Uddin, 35, a supporter of Iktiar Rahman, a member candidate of ward-1 of the union, and son of Mohiuddin of Rudrapur village.
Quoting the local people, Detective Branch inspector Rupon Kumar Sarkar said that supporters of current member Habibur Rahman attacked Kutub with local arms while he was pasting posters on behalf of Iktiar at Rudrapur at around 6:00pm on Saturday.
A clash broke out over the issue between the supporters of the two candidates, leaving 13 people, including Kutub, injured.
In Moulvibazar, some masked people allegedly attacked voters and prevented them from entering the polling station on Belkuma Punji road under Kulaura upazila.
Two people were injured in the incident.
Kulaura police officer-in-charge Binoy Bhushan Roy said that the police were deployed in the area after receiving information about the attack.
He also said that a drive was launched to detain those who were responsible for the attack.
In Cumilla, voting was suspended in the Deuatoli Government Primary School polling centre at Barura as the presiding officer and a policeman were stabbed Sunday morning.
Presiding officer Golam Sarwar Bhuiyan and sub-inspector Abu Hanif were attacked when 'unidentified criminals' tried to take control of the polling station at around 11:00am, Barura Upazila returning officer Azharul Islam told reporters.
Golam Sarwar was admitted to Barura Upazila Health Complex and SI Abu Hanif was taken to Cumilla Medical College Hospital in a critical condition.
In Munshiganj, the independent candidate for chair for Mollakandi union parishad, Mohasina Haque Kolpana, boycotted the election bringing allegation that the Awami League chair candidate ousted her agents from voting centres and forced people to stamp ballot papers for AL candidate with the help of the police and the administration.
She came up with the allegation at a press conference at around 1:00pm at her residence at Amghata at the union.
Returning officer Seraj Ahmad said that the independent candidate did not file any verbal or written complaint.
In Brahmanbaria, AL chair candidate Mujibur Rahman for Laurfatepur union parishad at Nabinagar upazila allegedly threatened a presiding officer of a polling station.
The incident happened at the Hajipur Government Primary School centre, said presiding officer Abul Khayer.
In Chandpur, an independent candidate for chair post for Upadhi Dakkhin union parishad came under attack by some supporters of AL chair candidate Golam Mostofa at a polling centre under Matlab Dakhkhin upazila.
Some activists of the AL candidate attacked independent candidate Yusuf Patwari when he came to the Bakra Government Primary School centre, witnesses said.
In Patuakhali, supporters of a rebel AL chair candidate allegedly attacked the house of Awami League candidate Golam Sarwar at Majidbaria union parishad at Mirzaganj upazila Saturday night, said Golam Sarwar's brother Harun-or-Rashid.
He alleged that the attackers vandalised some rooms and some motorcycles.
Mirzaganj police officer-in-charge Anwar Hossain Talukder told reporters that they brought the situation under control.
New Age staff correspondent in Chattagram reported that violence and irregularities marked the union parishad elections held on Sunday in Hathazari and Rangunia upazilas, with ruling Awami League candidates running against rebels.
Member candidates also tried to capture polling centres at three areas of Hathazari and Rangunia but the police foiled their attempts of capturing the polling centres, said locals.
The police used several rounds of rubber bullets, firing into the air, to take the situation under control, they said.
Followers of ruling Awami League- nominated chair candidate Md Hasanuzzaman Bacchu and followers of Islami Andolon Bangladesh-nominated candidate Md Jabed at Chikondandi union engaged in a scuffle at the Katakhali Govt Primary School and the Samadia Govt Primary School centres at about 12:00pm.
The followers of Hasanuzzaman allegedly fired a gun into air to create panic among the voters.
Followers of member candidates Md Yunus and Azim Uddin of ward no 5 of Rajanagar union at Rangunia were engaged in clashes at about 2:00pm at the Rajanagar Govt Primary School centre.
Later, the police dispersed them, opening rubber bullets, said locals.
However, locals spotted ballot papers with seals near the Kulalpara Govt Primary School and the Latifpara Govt Primary School centres at Hathazari.
Returning officer Syed Md Anwar Khaled could not be contacted for comments.
Kabir Ahmed, additional superintendent of the Chattogram district police, told New Age that no major occurrence happened during the UP polls on Sunday.
'Some incidents happened but we contained them. We had to use some rubber bullets also,' he said.
New Age staff correspondent in Rajshahi reported that the law enforcers arrested a youth allegedly for casting fake votes for the ruling Awami League-nominated candidate for Mithapur union parishad at Badalgachi upazila on Sunday.
The arrested was identified as Shamim Hossain, son of Bachchu Mandal of Mithapur under the upazila.
Mosharraf Hossain, the presiding officer of the Rahimpur Primary School centre, said that a group of youth entered a women's booth and forcibly started casting fake votes on ballot papers in favour of the boat symbol.
According to the Election Commission, a total of 569 UP representatives have already been elected uncontested. Of them, 100 are chair candidates, 337 member candidates and 132 member candidates for reserved seats for women. All the 100 unopposed chair candidates are from the AL.
Earlier, 72 AL chair candidates in the first phase and 81 candidates in the second phase were also elected unopposed.
The first phase of the UP elections was held on June 21 and September 20, the second phase on November 11 while the fourth phase is scheduled for December 26.
Opposition Bangladesh Nationalist Party and other major parties have boycotted the UP polls, saying that the Election Commission has lost its credibility to hold a fair election.
News Courtesy:
https://www.newagebd.net/article/155978/six-including-bgb-member-killed-as-violence-marks-voting