Dhaka commuters face heavy traffic congestion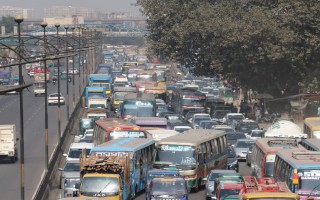 Hundreds of commuters were greeted by gridlocks on Thursday morning, as a head-on collision between a bus and a van on Bijoy Sarani Road triggered traffic jams across Dhaka.
The Bijoy Sarani gridlock around 7:00am saw long tailbacks that eventually spilled over to major roads of the city, hauling traffic on several stretches — Uttara to Mohakhali and Agargaon to Bijoy Sarani, and in areas such as Mirpur, Bangla Motor and Tejgaon.
The worst hit were the office-goers and school and college students. In some areas, the jams intensified as few motorists tried to reverse their vehicles to reach their destinations fast.
A senior executive of a private firm, said, 'I started my journey from Uttara around 9:45am to go to my office in the Malibagh area but it took me nearly one hour to reach Radisson Hotel.'
Normal traffic could be restored only around 10:00am after the two vehicles were removed from the road.
A senior traffic officer of Dhaka Metropolitan Police said that the two vehicles crashed into each other, leading to jams across the capital.
'The vehicles have been removed from the road and the traffic situation is improving across the city,' he told UNB.
News Courtesy:
https://www.newagebd.net/article/170969/dhaka-commuters-face-heavy-traffic-congestion