Full-fledged Covid-19 vaccination programme for children begins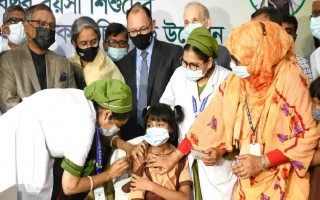 Bangladesh on Thursday rolled out a full-fledged Covid-19 vaccination programme for children aged between 5 years and 11 years in city corporation areas across the country.
This vaccination programme will continue for the next 14 days, from 9:00am to 3:00pm daily.
The government has set a target to vaccinate 2.20 crore children aged between 5 years and 11 years under this programme.
The vaccination programme was officially inaugurated at Nilkhet Government Primary School in the capital around 9:00am, in the presence of state minister for primary and mass education Zakir Hossain.
The Pfizer vaccine for children is being administered in 186 centres across 12 city corporations, the state minister said.
In Dhaka, children will be vaccinated at 21 centres in two city corporation areas.
This vaccination drive will be carried out soon at school and community levels of districts, upazilas and municipalities, said the state minister.
At the same time, street urchins or children who were school dropouts will also be vaccinated under this programme, he added.
Street children can get the jab through direct spot registration from booths at ward levels and various schools. Students can get the jab by showing their vaccination cards through online registration.
Red Crescent and BRAC volunteers are working in this programme.
The country received about 30 lakh doses of the Pfizer vaccine for children through the COVAX facility. The vaccine has been approved by the Directorate General of Drug Administration.
On August 11, Bangladesh started administering Covid-19 jabs to children aged between 5 and 11 years on an experimental basis.
News Courtesy:
https://www.newagebd.net/article/179326/full-fledged-covid-19-vaccination-programme-for-children-begins