Water sharing depends on India: PM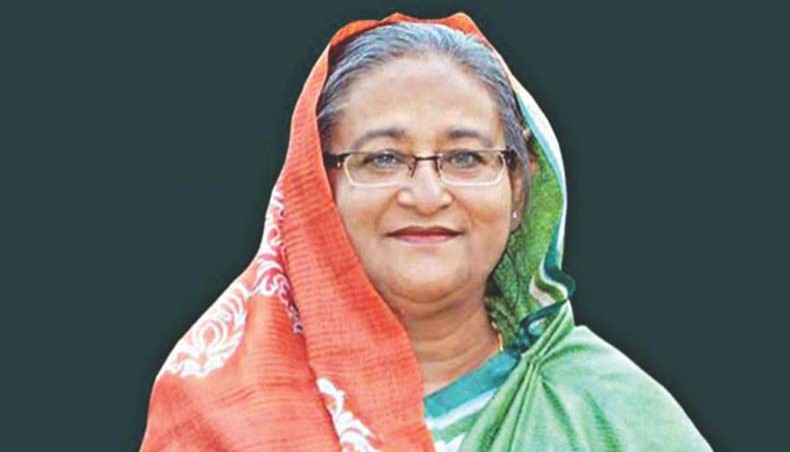 Prime minister Sheikh Hasina has said that resolving the water sharing issue mainly depends on India.
Mentioning that Bangladesh and India have water sharing deal only for the River Ganges and they have 54 other common rivers, she said, 'It's a longstanding problem. So, it should be solved. But it depends mainly on India.'
Hasina said this in an interview with multimedia news agency Asian News International ahead of her four-day state visit to India.
Recalling earlier discussions, in her meeting with Indian counterpart Narendra Modi in March 2021, she iterated Bangladesh's long-pending request for concluding the interim agreement on the sharing of the Teesta water.
She underscored that to alleviate the sufferings and save the livelihoods of millions of people dependent on the Teesta River Basin, it is necessary that Bangladesh receives its fair share of the Teesta waters, the draft agreement of which has already been agreed upon by both governments in January 2011, according to the 2021 joint statement.
Indian prime minister Narendra Modi reiterated India's 'sincere commitment and continued efforts' to conclude this agreement, in consultation with the relevant stakeholders.
She said,'We are in a... you know... downstream. Water is coming from India, so India should show more generosity. Both the countries will be beneficiaries. Sometimes our people suffer a lot because of water needs… this is especially true for Teesta. I think, it should be solved. We found that the (Indian) prime minister is quite eager to solve this problem, but the problem is in your country,' Hasina said.
Responding to a question on Hindu temples' vandalism, the prime minister told ANI that some incidents sometimes took place. 'But immediately we take action.'
The Rohingyas are a 'big burden' on Bangladesh, prime minister Sheikh Hasina said, and reached out to the international community to ensure their return to their homeland.
The prime minister said that Bangladesh had offered shelter to the Rohingyas when they were in dire need.
'But now, they should go back to their country. India as a neighbour can play a major role in it, I feel,' Hasina said.
She said that the presence of lakhs of Rohingyas in Bangladesh had created challenges for her government.
'For us (Rohingyas are) a big burden. India is a big country… you can accommodate. But in our country... we have 1.1 million Rohingyas… We are consulting with the international community and also our neighbouring countries. They should also take some steps so that they can go back home,' Hasina said.
The Bangladesh prime minister said that her government had tried to take care of the displaced community, keeping the humanitarian aspect in mind.
'…On humanitarian grounds, we give them shelter and provided everything. During the Covid pandemic, we also vaccinated all the Rohingyas. But how long will they stay here? Due to the camps, there are negative impact on the environment… Some are engaging in drug trafficking and armed conflicts, trafficking women. Day by day it is increasing. The sooner they return home, the better for our country and also for Myanmar. We have been trying our best to pursue them, we're discussing with them and also the international community, like ASEAN and UN,' Hasina said.
Asked about the prevalence of cattle-smuggling from India into Bangladesh, Sheikh Hasina said that the issue was under discussion and the magnitude of the problem had also been reduced a lot, reports BSS.
'But still sometimes some incident takes place. So we discuss with India that they should show some patience and this cattle trafficking. Already you know nowadays in our country, now we don't depend on Indian cow much. We are growing our own, you know, cattle here because we need it. But some border smuggling takes place. So the two sides, the border forces, they are sitting together. Any incident happen, they hold the flag meetings, they discuss. So yes, we'll say the assurance that it will reduce so it should not take place,' she said.
Hasina referred to India as a 'tested' friend and said that country had stood by Bangladesh in its hour of need, first in 1971 and then at later times also, reports UNB.
'We always remember their contribution during our 1971 war. And beside that even 1975, when we lost all my family members. So, the then prime minister, she gave us shelter in India. Besides that, you see, these two countries, we are neighbours, close neighbours and I always give importance and priority to friendship with our neighbouring countries,' she said.
Hasina lauded prime minister Narendra Modi led initiative towards rescuing students of her country who were stuck in eastern Europe following the outbreak of the Russia-Ukraine conflict.
In a free-wheeling television interaction with ANI, prime minister Hasina, who is set to visit India on Monday, also lavished praise on the Modi government's gesture of providing Covid vaccines to neighbouring countries under its Vaccine Maitri programme when the pandemic was fast-spreading.
'I really would like to express my thanks to prime minister that during this war between Russia and Ukraine, many of our students were just stuck and they came to Poland to shelter. But when you evacuate your students, Indian students, they also brought our students back home. So it is really... You have shown a clearly friendly gesture. I thank prime minister for this initiative,' Hasina said.
She was responding to a question about remarks often made especially by western observers that there was a lack of cooperation among SAARC nations. To another question about the Indian government's Vaccine Maitri programme, Hasina said it was a very 'prudent' initiative taken by prime minister Modi.
'I really thank prime minister Modi for this initiative, and that way he... you know, contributed vaccines to not only Bangladesh, also some South Asian countries, and it's really very very helpful. And it's a really prudent initiative he has taken, and beside that we bought vaccines with our own money, and also many other countries also contributed,' Hasina said.
Hasina also gave details about her country's vaccination programme. Bangladesh has administered Covid vaccines to 90 per cent of its population.
'Usually, you know, people from our country, especially the village level, even in some towns also, I found many people very much reluctant to take vaccine. They don't want to take the... you know... the pinch of needle or "sui nai lena hai" so... but we have to pursue them. We told them that this is nothing but it will save your life. So that way we engaged everybody, so that they make people... so it was really very good initiative, this Vaccine Maitri itself... very good initiative. I really support,' she said.
The relationship between the two countries should be for the betterment of their citizens, she said.
Hasina said that even during the Covid period, Indian leadership had shown their positive intentions as both, the then president Ram Nath Kovind and prime minister Narendra Modi visited Bangladesh as it celebrated its Independence Day.
Bangladesh prime minister Sheikh Hasina has said that her son Sajeeb Wazed Joy was the brain behind many of her government's digital initiatives but the decision on joining politics is best left to him and the people of the country.
Hasina opened up about her son, who is also the PM's ICT adviser.
'Look... he's a grown-up. It's up to him but he is working for the country… the Digital Bangladesh (initiative) we set up, all these satellite or submarine cable or computer training – these are all his ideas and he is assisting me… But he never thought about taking any position – either in the party or ministry,' the Bangladesh prime minister said.
Hasina recalled that at one of the events of her party, there was a tremendous demand from leaders and activists that Joy should take up a role.
'Even in our party conference, there was a tremendous demand for him. Then I asked him, you take the microphone and say what you want to do. And he did it. He said no, 'I don't want any position in the party at this moment. Rather, those who are working here, they should get this post. Why should I occupy a post? I am with my mother; I am working for the country, and I am assisting her… I'll continue doing that.' That's the way he thinks,' she said.
Asked if she felt it was for her son to take a call, Hasina replied, 'It depends on the people, you see.'
During the interview, she also recalled the role of her father Bangladesh's founding president Sheikh Mujibur Rahman in shaping the foreign policy of her nation.
'Friendship to all, malice to none – which my father, Father of the Nation, Bangabandhu Sheikh Mujibur Rahman, said in his address at UN. And we follow his ideology. And my point is that we should focus on our people… How to give them a better life… We have one enemy. That is poverty. So, let us work together,' she said.
Hasina said that she always felt leading countries should address disputes and differences through dialogue. '…If there is any problem between China and India, I don't want to poke my nose in that. I want development of my country and because India is our next-door neighbour, we have very good relationship. We had many bilateral issues, it's true, but we solved many problems too,' she said.
Hasina said that the priority for Bangladesh was development and it was willing to take any country's help that could offer betterment for its people.
Dismissing concerns that Bangladesh could go the Sri Lanka way, prime minister Sheikh Hasina said that despite the Covid onslaught and the conflict in Ukraine, her country's economy continued to be in robust shape and that her regime exercised a high level of diligence when taking any loans, reports BSS.
She said that currently the world as a whole was facing challenges which were not restricted only to Bangladesh.
'Our economy, still it is very strong. Though, we faced this Covid pandemic, now the Ukraine-Russia war. That has its effect here. But in debt rate, Bangladesh always pays timely all the debts. So our debt rate is very low. In context of Sri Lanka, our economy trajectory and the development, it is (planned) very, very calculative,' she said.
Sheikh Hasina asserted that because of this measured approach, her country was secure on the economic front. Bangladesh did not take any loan unless it was sure that it would benefit from the project, she said.
She said that in Bangladesh, whenever the government considered any loan, it was a clear policy to estimate what would be the return for the country on the completion of the project.
News Courtesy:
https://www.newagebd.net/article/180244/water-sharing-depends-on-india-pm