Gas crisis distresses city people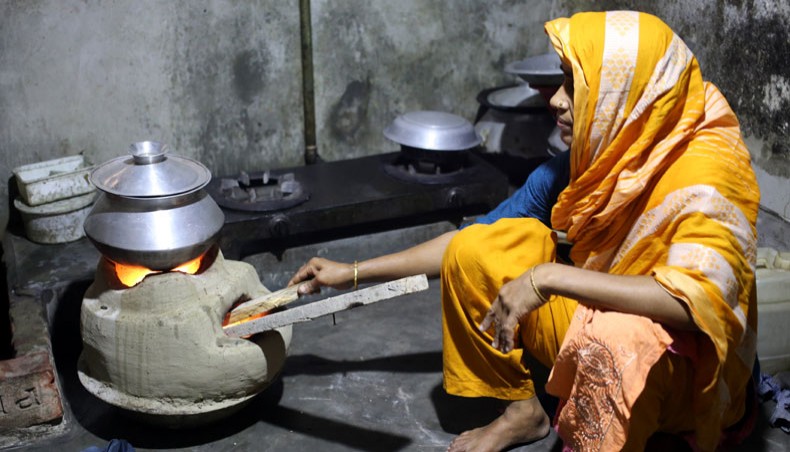 An acute gas crisis persisting in most areas of Dhaka city has put the life of residents in distress, hampering also productions in the export-oriented apparel sector in particular.
The continued disruption in the gas supply has intensified the sufferings of city people already hit hard by frequent power outages amid high cost of living, affected people said.
Residents in various parts of the capital complained that they had been suffering from an acute gas crisis for several to many hours over seven to 15 days while many in other areas accused that they had been going through the crisis for some four to seven months.
Leaders of the country's apparel sector also said that they had been in a precarious situation since July as their production came down below 50 per cent due to no gas supply for 12 to 20 hours in many places.
Residents in the capital's various areas, including Azimpur, Dhanmondi, Mohanagar Project in West Rampura, Banasree and South Goran, said that they had been without gas supply for four to six hours for seven to 15 days.
Nargis Begum, a housewife at Dakshin Banasree said, 'There has been no gas supply in our area between about 8:30am to 3:30pm for the past 15 days. The pressure of gas has also been low after 6:00pm.'
She said that her family, which includes young children, had been going through untold sufferings as foods could not be prepared for their regular meals due to the gas crisis.
Mohammad Rafiq, an apartment building caretaker in Azimpur Dayera Sharif area, on September 8 said, 'With the gas supply we have been receiving from 10:00am to 3:00pm for the past seven days, we cannot even warm water.'
He went on to say that it required two hours to cook rice alone after 3:00pm the previous day due to the low gas pressure.
Tapojoyti Dibya, a student in Dhanmondi 15 area near Diamond Restaurant, said, 'We have been suffering from an acute gas crisis from 8:00am to 2:00pm for more than 12 days.'
He said that frequent power outages and high commodity prices — now coupled with further additional expense due to the gas crisis — had made their life miserable.
Residents in the capital's Motijheel and Segunbagicha areas said that they had been going through a gas crisis for a month or so and the situation had gone from bad to worse in the past 15 days.
Residents of Mohammadpur, Adabor and Sutrapur areas said that they had been suffering from a gas crunch between 8:00am and 2:00pm for three to seven long months and the crisis, they said, appears to have become a perennial problem.
Suhi Rahman, a resident at the Dhaka Housing in Mohammadpur said that they had been getting no gas supply from 10:00am to 2:00pm for some seven months.
'We have been facing extreme difficulties cooking food for lunch as we do not have gas,' said Suhi, who is a medical officer at Dhaka Central International Medical College and Hospital.
On September 8, there was no gas supply at most of the houses in the capital's Baridhara Defence Officers' Housing Society area.
Many people were found buying foods for their families from restaurants at Anannya Shopping Complex in the area.
An owner of Oitijjho Restaurant and Catering Service in the area, Syed Harun or Rahshid, on the day said, 'There is no gas supply in the area today. I am trying my best to satisfy the customers, but still many returned home without food.'
He disclosed that he stared cooking at his restaurant with fire wood and as it created smoke the shopping mall authority ordered closing the cooking with wood.
People of the Mohanagar Housing Project in West Rampura said that they had not been having gas supply from 11:00am to 2:00pm for the past seven days.
Residents of the city's Gandaria neighbourhood in Sutrapur area said that the gas supply pressure had been so low from 8:00am to 2:00pm that many of them woke early in the morning to do the cooking.
Incumbent and former leaders of the Bangladesh Garment Manufacturers and Exporters Association, the Bangladesh Knitwear Manufacturers and Exporters Association and the Bangladesh Textile Mills Association said that their production units had been suffering on account of an acute gas crisis since July and their production capacity had come down up to more than 50 per cent due to the crisis.
Factories in Dhaka and its adjacent districts have been facing the crisis, they said.
Abed Textile Processing Mills Limited director Abdullah Al Mamun, also a BTMA vice-president, said that they had been struggling with an acute gas crisis for around two months.
The gas pressure, he said, most of the factories has been receiving comes down to near zero pound per square inch, in place of the standard 15 PSI, for up to 20 hours every day.
'We have been stuck in a precarious situation due to the inadequate gas supply. We do not even know why such a crisis is persisting. It is seriously hampering our production,' he added.
BKMEA executive president Mohammad Hatem told New Age on Friday that as they had not been receiving gas supply from 11:00am to 10:00pm their production came down by more than 50 per cent, adding that the crisis has continued to intensify.
'If the crisis is not solved immediately, it will create an adverse impact on the country's foreign currency earnings in the days to come,' he said, adding that the government is providing gas supply to the power sector.
He said that they would hold a press conference about the gas crisis on September 12.
Dhaka North City mayor and a former BGMEA president Atiqul Islam on Friday said that most of the factories in the apparel sector were struggling to manage productions due to the power and gas crises.
Most factories, including woven and composite, require minimum power and gas supplies on a regular basis, he added.
'Many apparel factories are now even facing a threat of closure,' said Atiq.
Bangladesh earned $52.8 billion from exports in the financial year 2021–22, in which the contribution of the apparel sector was $42.61 billion, 81.81 per cent of the total export income, according to the Export Promotion Bureau data.
Admitting the gas crisis, Titas Gas Transmission and Distribution Company Limited director for operations Md Salim Miah said that there was a gap between the demand and the supply.
'The supply shortage has led to the gas crisis in industries and households,' he said.
Asked why the gas supply has fallen, he said, 'Petrobangla [the state-owned Bangladesh Oil, Gas and Mineral Corporation] can explain better.'
The Titas Gas in a notice on September 6 said that the gas supply to all categories of consumers would be stopped, including in Evercare Hospital and North South University in the Bashundhara residential area and in the US embassy area, while there would be low gas pressure in Uttara residential areas on Thursday from 8:00am to 8:00pm.
Asked for the reason, Titas Gas director Salim Miah replied, 'We suspended the gas supply for repair works.'
The country's total gas consumption stood at 2,785.2mmcfd, including 480.8 mmcfd liquefied natural gas, on September 8 against the capacity of 3,760mmcfd, according to Petrobangla.
Petrobangla director for operations and mines Md Kamruzzaman Khan told New Age that the gas crisis occurred as they have stopped importing LNG from the spot market since July this year.
'We have not been importing LNG from the spot market since July for high prices due to the Russian invasion of Ukraine. Earlier, we imported a vessel of LNG at Tk 400 crore but more than Tk 2,000 crore is required now for the same quantity,' Kamruzzaman explained.
Asked about the gas crisis hitting industries, he said, 'We are following the government austerity directives to save on fuel oil.'
He further said that if the prices came down on the global market, they would start buying LNG from the spot market and the crisis would cease to exist.
News Courtesy:
https://www.newagebd.net/article/180658/gas-crisis-distresses-city-people