Sajeda Chowdhury to be laid to rest at Banani graveyard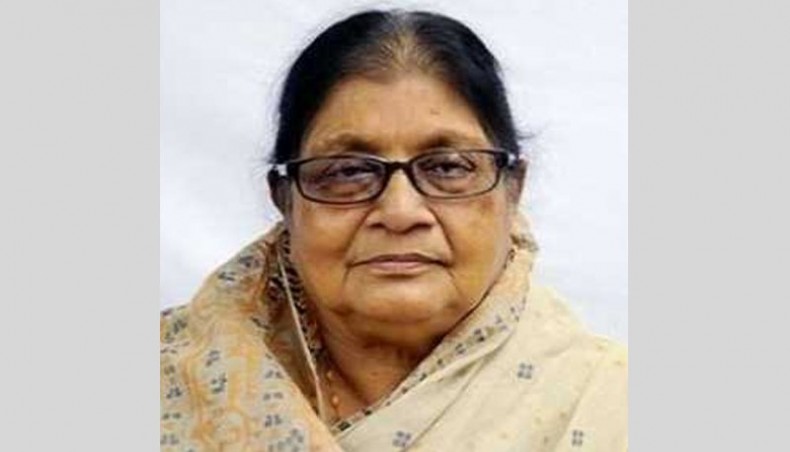 Jatiya Sangsad deputy leader and Awami League presidium member Syeda Sajeda Chowdhury, who died at a city hospital on Sunday night at the age of 87, will be buried at the Banani Graveyard in Bangladesh capital Dhaka with state honor.
'Sajeda Chowdhury will be buried at the Banani Graveyard in city with state honor following her second namaj-e-janaza at south gate of Baitul Mukarram National Mosque after asr prayers today,' prime minister's assistant press secretary MM Emrul Kayas said.
On behalf of prime minister Sheikh Hasina, her military secretary Major General Kabir Ahammad will pay tribute to veteran politician and freedom fighter Sajeda Chowdhury, he said.
Earlier, her body will be brought back to the capital from Faridpur, where her first namaj-e-janaza was scheduled to be held, by a helicopter and taken to AL central office in the city's Bangabandhu Avenue, Kayas added.
The body will be kept at the party office for some time to let the party leaders and activists as well as other political leaders to have their last glimpses on their beloved political colleague, he said.
Then the body will be taken to the Central Shaheed Minar and kept for a while there to allow people from all strata to pay their tributes to the veteran politician and one of the organizers of the country's Liberation War.
Later, the body will be taken to the south gate of the Baitul Mukarram.
Earlier, the body of Sajeda Chowdhury was taken to her electoral constituency Nagarkanda in Faridpur on Monday.
Immediately after her demise, prime minister Sheikh Hasina expressed profound shock and deep grief at the death of Sajeda Chowdhury.
She prayed for eternal peace of the departed soul and conveyed heartfelt sympathy to the bereaved family.
Sajeda Chowdhury was admitted to Combined Military Hospital after her health condition became critical last week, where she breathed her last around 11:40pm on Sunday.
She was elected parliament member several times from Faridpur-2 constituency.
Sajeda Chowdhury was born on May 8 in 1935. The veteran politician joined the politics of AL in 1956. After the assassination of the country's founding president Sheikh Mujibur Rahman and most of his family members on August 15, 1975, she played an important role in keeping the AL organised at a critical moment.
In 1976, Sajeda Chowdhury became the AL's acting general secretary. Later, she was the party's full general secretary from 1986 to 1992. Before that, she was the general secretary of Mahila Awami League from 1969 to 1975.
News Courtesy:
https://www.newagebd.net/article/180870/sajeda-chowdhury-to-be-laid-to-rest-at-banani-graveyard