Fardin murder probe still stuck in motive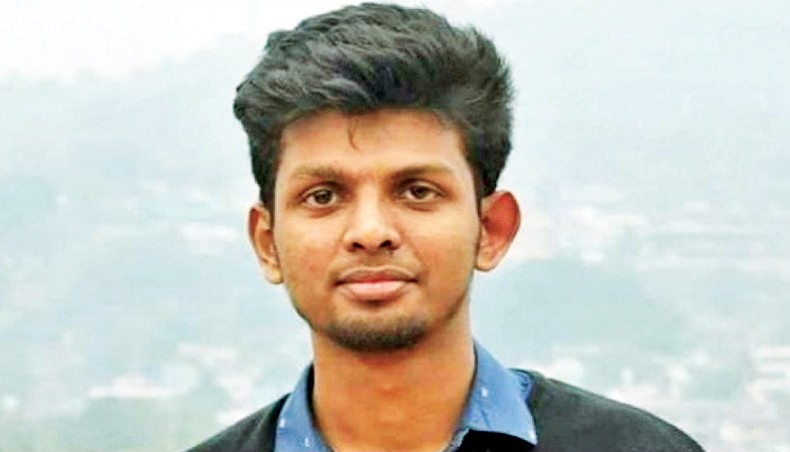 The probe agencies are yet to have any clues in the murder of Bangladesh University of Engineering and Technology student Fardin Noor Parash as nearly four weeks have passed since his body was recovered from Sitalakhya River in Narayanganj.
Detective Branch of police and Rapid Action Battalion have come up with different information about Fardin's last active cellphone location, but none of the two has any idea of what actually led to the murder.
The victim family is disappointed as there is no headway in probe.
Fardin's father Kazi Nuruddin criticised a section of media for spreading fake information about his son's involvement in drug without showing any evidence.
Nuruddin said that he did not want to lose hope and confidence in the state agencies.
Dhaka Metropolitan Police deputy commissioner for DB Motijheel division Rajib Al Masud said that they had no breakthrough to share about.
'We didn't find anything that might suggest that Fardin was a drug abuser or he was killed by any drug syndicate,' he said.
The decomposed body of Fardin, 23, was recovered from Sitalakhya in Siddhirganj, Narayanganj on November 7 afternoon, three days after he went missing.
Fardin's father Kazi Nuruddin informed the police that his son left their Konapara house in Demra one Friday, saying that he had an academic test on the following day.
Fardin's friend East West University student Amatullah Bushra was placed on remand in police custody in connection with the murder case.
Bushra is still in jail though the investigators said that they didn't find any evidence suggesting her involvement in the murder.
The DB said that Fardin's last active cellphone location was in Barpa of Tarabo in Narayanganj at 2:40am on November 5, but it did not have any information about what happened after that.
DB chief and DMP additional commissioner Harun-or-Rashid, however, recently said that the analysis of CCTV footage showed that Fardin was at the capital's Jatrabari intersection at 2:15am.
Fardin boarded a Laguna there accompanied by 3-4 men in T-shirts. The laguna went towards Tarabo Bishwa Road in Narayanganj, added the official.
The Rapid Action Battalion, however, said that it found Fardin's last active cellphone location in Chanpara of Rupganj at 2:34am.
DB officials said that they didn't find it logical that Fardin would be in Chanpara at the time since his movement was in another direction.
RAB media wing director Khandaker Al-Moin said that they followed Fardin's movements with mobile tower analysis.
As per their observation, Fardin could be killed in Chanpara or nearby area by any drug or any other crime syndicate.
Moin explained that an individual sometimes might be tracked in two bordering areas. Fardin was last located under the purview of two mobile towers in Barpa and Chanpara.
Fardin's father Nuruddin termed it a planned murder.
'I want to repose my trust in the investigating agencies. I hope they wouldn't fail us,' said Nuruddin.
News Courtesy:
https://www.newagebd.net/article/187923/fardin-murder-probe-still-stuck-in-motive