Woman gives birth to child at Agargaon Metro Rail Station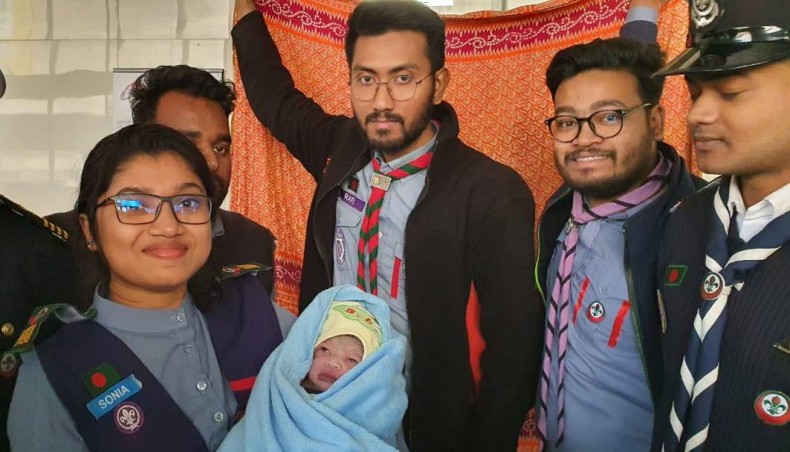 An incident of the birth of a child took place for the first time at Agargaon station of Metro Rail service on Thursday.
The woman, Sonia Rani Roy, was travelling with her husband, Sukanto Shaha, by metro rail from Uttara station and gave birth to her baby at the Agargaon station at about 10:00am.
The woman and the new born baby boy were now healthy, said officials of the Dhaka Mass Transit Company Limited.
DMTCL deputy project manager Md Mahfuzur Rahman told New Age that Sonia Rani Roy and her husband Sukanto Shaha started traveling from Uttara North to Agargaon Station in the morning.
Suddenly, inside the train Sonia Rani started having labour pain, he said.
'When they reached Agargaon Station, immediately our scout members and DMTCL staff took her to Agargaon station's first aid room. With the help of our scout members and Doctor Ferdaus Akter, Sonia Rani successfully gave birth to a baby boy,' he said.
After giving first aid to the woman and her baby, the DMTCL authorities transferred them to the nearest hospital by an Italian-Thai Development Company's ambulance, he continued.
Mahfuzur Rahman said that both the woman and her baby were in a stable condition.
Bangladesh's first-ever metro rail was opened to the public on the Uttara-Agargaon route in the capital on December 29 amid huge enthusiasm.
Prime minister Sheikh Hasina launched the country's first metro rail service, also the country's first-ever electricity-powered rail system, on December 28.
According to the DMTCL, metro rail carried 90,000 passengers in the first 10 days, between December 29 and January 8.
News Courtesy:
https://www.newagebd.net/article/191490/woman-gives-birth-to-child-at-agargaon-metro-rail-station