Errors in textbooks will be revised: education minister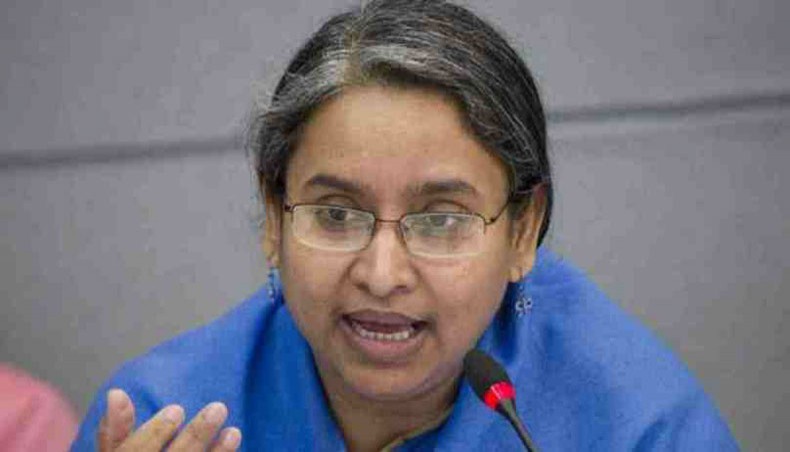 If there are errors in textbooks, they will be corrected, education minister Dipu Moni has said.
'This year's textbooks are experimental and trials have been conducted at 62 educational institutions over them. Even after that, there could be errors, and they will be corrected,' she said at a programme in Chandpur on Tuesday night.
Referring to social media posts on 'errors' in textbooks for Class IX and Class X, the education minister said, 'Many have raised questions about the textbooks for Class IX and Class X published this year. But these textbooks are not new, these have been there since 2013. There could be inadvertent errors, however, and corrections are being sent.'
'If anyone finds errors in these books, let us know, and we'll correct it,' she said.
'It is impossible to have good students without transforming the education system. Rote learning is not being effective. That's why we are trying to transform the education system. We are trying to encourage learning by doing. A teacher will play the role of a guide. Evaluations will be done every day. Education should also be fun. We just get the certificates but cannot say we have truly learnt. There are skills gap in the job market,' said the education minister.
She said that technical and madrassah education would also be transformed.
'We want our students to be ready for the job market. We want them to go for higher education and research. They will materialise the 'Sonar Bangla' dream.'
National Curriculum and Textbook Board has provided corrections for nine mistakes they found in three of the textbooks distributed for this year.
NCTB issued a notification in this regard on January 15, 2023 and posted the corrections on their website.
The mistakes were spotted in three textbooks of Class IX and Class X.
Four mistakes were found in History of Bangladesh and World Civilisation, three in Bangladesh and Global Studies while two in Civics and Citizenships.
NCTB provided all the corrections in detail on their website.
Eminent writer and academician Muhammed Zafar Iqbal and Professor Hasina Khan have expressed regret over the plagiarised content found in the new Class VII science textbook that they edited.
They also took responsibility in a statement issued on Monday.
As part of the new curriculum from this year, science textbooks for Class VI and Class VII have been printed and distributed to students as Anusandhani Path.
News Courtesy:
https://www.newagebd.net/article/191991/errors-in-textbooks-will-be-revised-education-minister