Nobel laureate Maria Ressa of Philippines acquitted of tax evasion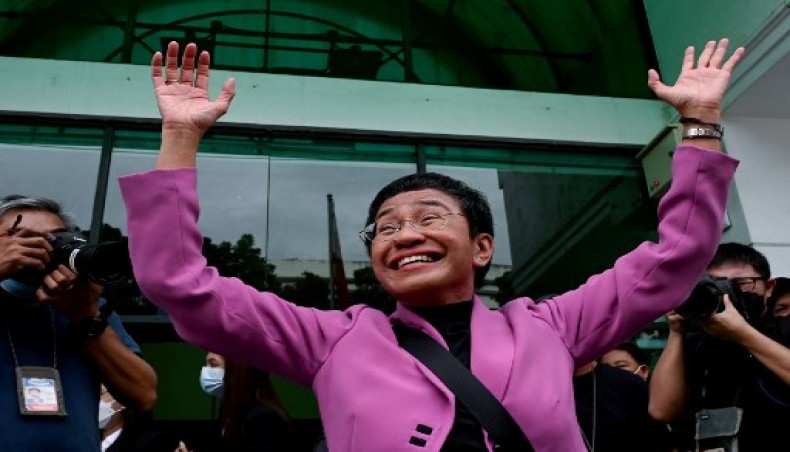 Philippine Nobel laureate Maria Ressa and her online media company Rappler were on Wednesday acquitted of all four charges of tax evasion filed against her, a court said.
Ressa, who won the Nobel along with Russian journalist Dmitry Muratov in 2021, still faces three other criminal cases, including a cyber libel conviction now under appeal that could mean nearly seven years in prison.
'Today, facts win. Truth wins,' a defiant Ressa told reporters outside the Manila courtroom shortly after the court ruled on government charges that she and Rappler dodged taxes in a 2015 bond sale to foreign investors.
'These charges were politically motivated,' Ressa said Wednesday. 'We were able to prove that Rappler is not a tax evader.'
The 59-year-old has been battling a series of cases that media advocates say were filed due to her vocal criticism of former president Rodrigo Duterte and his drug war, which claimed thousands of lives.
Ressa and Muratov were awarded the 2021 Nobel for their efforts to 'safeguard freedom of expression'.
Asked what the tax court ruling meant, Ressa said: 'Hope. That's what it provides.'
Despite the ruling, the future of Rappler, which Ressa founded about a decade ago, remains uncertain.
It is still fighting a Philippine Securities and Exchange Commission order to close it for allegedly violating a constitutional ban on foreign ownership in media.
The news organisation, which remains operational, is accused of allowing foreigners to take control of its website through its parent company Rappler Holdings' issuance of 'depositary receipts'.
Under the constitution, investment in media is reserved for Filipinos or Filipino-controlled entities.
The case springs from a 2015 investment by the US-based Omidyar Network, established by eBay founder Pierre Omidyar.
Omidyar Network later transferred its Rappler investment to the site's local managers to stave off efforts by Duterte to shut it down.
Philippine President Ferdinand Marcos said in September he would not interfere in Ressa's cases, citing the separation of powers between the executive and judicial branches of government.
Shortly after Marcos took office last year, Ressa lost an appeal against a 2020 conviction for cyber libel.
Trouble for Ressa and Rappler started in 2016, when Duterte came to power and launched a drug war in which more than 6,200 people died in police anti-narcotics operations, official data shows.
Rights groups estimate tens of thousands were killed.
Rappler was among the domestic and foreign media outlets that published shocking images of the killings and questioned the crackdown's legal basis.
Local broadcaster ABS-CBN -- also critical of Duterte -- lost its free-to-air licence, while Ressa and Rappler endured what press freedom advocates say was a grinding series of criminal charges, probes and online attacks.
Duterte's government said previously it had nothing to do with any of the cases against Ressa.
News Courtesy:
https://www.newagebd.net/article/191992/nobel-laureate-maria-ressa-of-philippines-acquitted-of-tax-evasion