AL, BNP, JP urges youths to join politics to strengthen democracy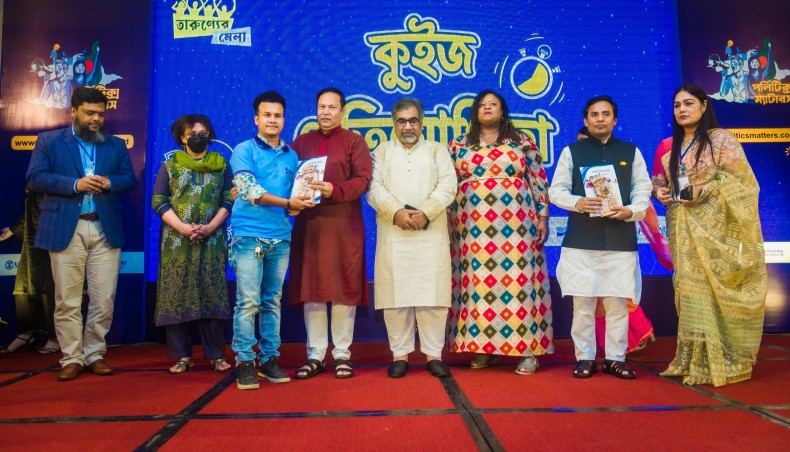 Central leaders of Bangladesh's three major parties —Awami League, Bangladesh Nationalist Party and Jatiya Party on Friday emphasised youths to participate in politics to make democracy stronger.
They came up with the call while addressing a youth fair organised by the Multi-Party Advocacy Forum in Dhaka, supported by the USAID-funded Strengthening Political Landscape in Bangladesh programme implemented by Democracy International.
The theme of the fair is 'political discussion must continue'.
Speakers at Dhaka Youth Fair said that the political parties should be more proactive in increasing the political participation of talented youths.
Members of Chhatra League, Chhatra Dal, and Jatiya Chhatra Somaj, and politically aware students from four educational institutions participated in the programme, a press release said.
Participants took part in different sessions, including debates, quiz, and online courses, to enhance their political knowledge and skills.
AL organising secretary Sujit Roy Nandi said that even if there was a difference in ideology, everyone should be united on the issues of transparency, accountability, good governance, fundamentalism and extremism for the sake of the country.
'We have got united on one this stage today for our youths,' he said.
BNP organising secretary Syed Imran Saleh Prince said, 'Politics has both good and bad sides. If we only talk about the negative sides then we will never move forward.'
JP joint secretary general Golam Mohammad Raju said, 'First of all, democracy must be practiced within the parties, otherwise establishing stable democracy in the country will be tough.'
Referring to the need to get out of dynastic political party practices, he said,'Tthe current chairman of his party has started working towards that goal.'
Among others, the chief of the party of Democracy International, Dana L Olds, BNP's Dhaka south city unit joint convener Tanveer Ahmed and MAF Dhaka's general secretary and member of AL's central sub-committee Noorjahan Akter Shabuz spoke at the programme.
News Courtesy:
https://www.newagebd.net/article/202134/al-bnp-jp-urges-youths-to-join-politics-to-strengthen-democracy